Neumann girls fall in State Semi Final
The Cardinal Mooney Catholic High School Lady Cougar Basketball Team will be playing for a State Championship after a Class 3A Semifinal victory Feb. 23, 2022, at the RP Fund Center in Lakeland. This a return trip to the State Championship game for the Sarasota team having a heartbreaking loss in 2021.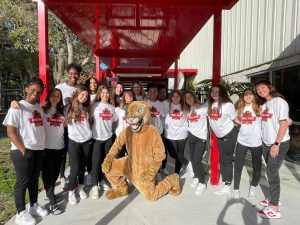 Just a few hours earlier, the St. John Neumann Catholic High School Lady Celtic Basketball Team from Naples fell in the Class 2A State Semifinal in Lakeland. This was the team's first trip to the State Final Four since 2008.
Both Mooney and Neumann sent large contingents of students and faculty to cheer on their teams. Joining the students and faculty in the stands was Father John Belmonte, SJ, Diocesan Superintendent of Catholic Education.
On Feb. 18, at nearly the same time, the Mooney and Neumann girls won regional championships on their respective home courts, earning their berths into the State Final Four.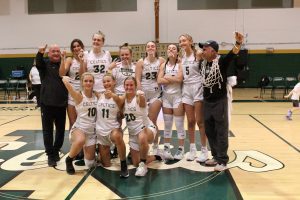 The Naples women faced Miami Christian, the defending State Champions, in the State Semifinals. The Lady Celtics lost 68-45, ending their dream season with a 23-6 record. While the final score suggests the game was never close, the Lady Celtics fought hard against a team that beat opponents by 174 points in the previous three games combined. The best Neumann player throughout the year was Leah Martin-Gonzales, a senior, who averaged 18.5 points per game with Sophia Mccartney, a sophomore, who averaging 16.3 points per game and 13 rebounds.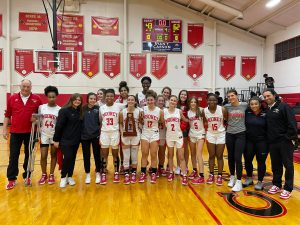 The Lady Cougars defeated King's Academy of West Palm Beach 50-42 in their own Semifinal. The team lifted their season record to 19-6, having won their last six games to reach the Final. The team's leading scorers are Olivia Davis and Keli Barret. The Class 3A State Final against Westminster Academy of Fort Lauderdale is at 4:30 p.m., Friday. Feb. 25 in Lakeland.
Please visit www.facebook.com/dioceseofvenice after the Championship game for an update on the Final.