The Cardinal Mooney Catholic High School Lady Cougars Basketball Team will be playing for a State Championship after a Class 3A Semifinal victory Feb. 22, 2023, at the RP Fund Center in Lakeland. This is the third return trip to the State Championship game for the Sarasota team having had heartbreaking losses in 2021 and 2022.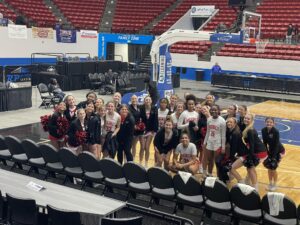 The Lady Cougars defeated King's Academy of West Palm Beach 52-39 in their Semifinal, the same team they beat to reach the final in 2022. Back in Sarasota, the game was livestreamed to students as they took a break for lunch. A large group of students is expected to go to the Final.
The Cougars lifted their season record to 21-5, having won their last eight games to reach the Final. The team's leading scorers throughout the year are Olivia Davis and Keli Barrett. The Class 3A State Final against Miami Country Day is at 10 a.m., Saturday. Feb. 25 in Lakeland. This game is a rematch of the 2021 3A State Final.
On Feb. 17, the Mooney team won the regional championships on their home court over Tampa Catholic, earning their berth into the State Final Four for their third consecutive year. The Lady Cougars are seeking their first State Championship.