How many of you can say that you were able to apply what you learned in high school, and it saved a life?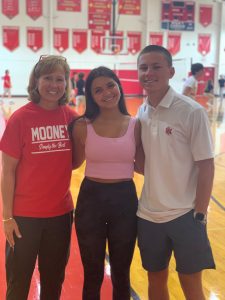 Bella Rogers, Cardinal Mooney Catholic High School Class of 2021, took the required HOPE class with teacher Susan Powell during her freshman year. In the class, Powell went above and beyond to teach CPR techniques in addition to the required curriculum.
During Valentine's Day weekend 2022, Bella, who is studying at Florida State University, was visited by Charlie Budreau, Mooney Class of 2019, who arrived from his school, Auburn University. Unexpectedly, Charlie suffered cardiac arrest due to undiagnosed genetic heart disease (ARVD).
Bella didn't hesitate and was able to recall the knowledge she learned in freshman year at Mooney to help save Charlie's life. In gratitude, Bella and Charlie visited Mooney in mid-May 2022 to thank their teacher, Susan Powell, for teaching CPR. There were plenty of smiles and hearty hugs to go around.
"If it wasn't for you, I wouldn't have had any idea what I was doing in that situation. It is the only time I have learned to do CPR and it was while I was at Mooney," Bella said to Powell.
"Cardinal Mooney is proud to have teachers like Powell who understand the importance of teaching real-life skills to students," said Principal Ben Hopper.
The school is also proud of students like Bella, who know they can face challenges head-on because they have learned those important skills, saving someone's life with the knowledge and confidence instilled years earlier by a Cardinal Mooney teacher.