Carmelite Father Niles Gillen, Province of the Most Pure Heart of Mary, died at the age of 90 on May 25, 2022, in Nokomis. Father Gillen served as Parochial Vicar at St. Raphael Parish in Englewood from 2002 until his retirement in the summer of 2012. Father Niles then retired locally, continuing to assist at Parishes, remaining in the area until his death.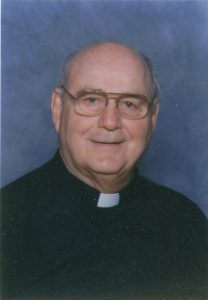 Father Gillen was born to (the late) James Gillen and (the late) Margaret (Fox) Whelan on September 15, 1931, in Chicago, Illinois. His given name at baptism was James Joseph. He attended St. Columbanus School in Chicago, Illinois, and Mount Carmel High School in Chicago, Illinois. After graduating from high school, he entered the Carmelite pre-novitiate program in Niagara Falls, Ontario. He entered the Carmelite novitiate in New Baltimore, Pennsylvania, and professed simple vows on Sept. 1, 1951, taking the religious name of Niles.
Father went on to study at Mount Carmel College in Niagara Falls, Ontario, and St. Bonaventure University in Olean, New York, as well as at Whitefriars Hall in Washington, D.C. Professing solemn vows with the Carmelites Sept. 15, 1954, he was ordained a Carmelite priest on May 26, 1956, in Chicago. Father Gillen continued his studies at Fordham University in New York; and at Dartmouth College in Hanover, New Hampshire before his first assignment in 1957 as teacher and guidance director at a school in Chicago.
In 1961, Father Gillen became principal at a high school in Joliet, Illinois, and in 1966 was named Superintendent of Schools for the Diocese of Joliet, a position he served in for the following 20 years. Following a 1986 sabbatical, Father Niles was named pastor of a Parish in Louisville, Kentucky. It was in 2002, after another sabbatical, when Father Gillen was assigned as parochial vicar at St. Raphael Parish in Englewood.
Father remained at St. Raphael until his retirement in the summer of 2012. The Parish Hall was named in his honor. Father continued to assist at St. Raphael as well as at Our Lady of Mount Carmel Parish in Osprey, which is run the Order of Carmelites.
A Funeral Mass for Father Gillen will be held at 11 a.m., Saturday, June 4, at Our Lady of Mount Carmel Parish, 425 S. Tamiami Trail, Osprey. Additionally, a wake will be held June 8, 2022, at the National Shrine of St. Thérèse, 8423 Bailey Road, Darien, Illinois, which will be immediately followed by a Funeral Mass. Burial will be at Mount Olivet Cemetery in Chicago.
Father Gillen is survived by a brother. Please pray for the repose of his soul and consolation of his family. May his soul and the souls of all the faithful departed through the mercy of God rest in eternal peace.