The faithful of Our Lady Queen of Heaven Parish and Holy Martyrs Mission in LaBelle were recently given the opportunity to participate in a three-day retreat aimed at building up Catholic families.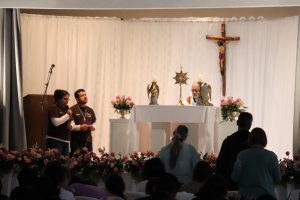 Father Jiobani Batista was thrilled with the turn out for the retreat, which was held at the LaBelle Civic Center over the course of three days, with an evening session on May 27, 2022, and full day sessions on May 28 and May 29. Wilson Tamayo led the retreat, which included prayer, music, inspirational talks, presentations, and Eucharistic Adoration. Mass and the Sacrament of Reconciliation were also offered. The purpose was to help families grow closer to Jesus Christ through the Blessed Virgin Mary.
"Many families face different challenges of faith," Father Batista said. "We wanted to address these issues directly and give them the tools to grow in their faith, together, as a family."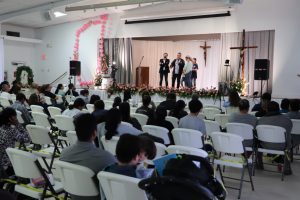 A powerful component of the retreat was the different testimonials from families who shared how they overcame various obstacles and challenges as a family and in their faith. Each said that the help and guidance of other family members and friends, with the intercession of the Blessed Virgin, led them back to a relationship with Jesus Christ.
"We went to church every Sunday, but that isn't enough," one woman explained. "We lost our way as a family. We didn't worry about whether our children received the sacraments. It wasn't a priority. But a friend came to me and invited me to pray the rosary with her. In that invitation, we started our journey back to the Lord, with the Blessed Virgin as our guide."