A blessing and ribbon-cutting ceremony took place Jan. 15 in Sarasota for the new Cardinal Mooney Catholic High School Gail Baird Learning Center.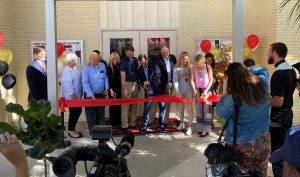 The Learning Center is a cutting-edge, multi-media facility where students can gather to work independently or collaboratively in a flexible environment which includes work tables with charging stations and portable power banks for student's personal digital devices. Students use the Learning Center to study in a collaborative learning environment that provides educational resources and technology integrated into the curriculum at Cardinal Mooney.
The center was made possible thanks to the generosity of the Gail Baird Foundation. Gail Baird was an entrepreneur who had a thirst for knowledge and who believed that anyone could achieve their dreams with support and guidance.
"She would be very proud to have her name on this Learning Center, an enhanced learning space for students," said Eric Baird, Foundation Founder.
Mooney Sophomore Delaney Lento spoke on behalf of her classmates and noted that she believes that "it is crucial to emphasize the importance of having a modern and comfortable learning space that allows room for research and to do projects."
Lento said student choose Cardinal Mooney for a learning experience that will help them to prepare for a bright future in college, and the extensive use of technology is a big factor in that decision. With the new Learning Center "Cardinal Mooney has now upped the ante… I thank the Baird family and the Gail Baird Foundation for renovating this facility and for bettering the quality of our learning environment."
Principal Ben Hopper said that it is "exciting for what this center will mean, not only for our current students, but for many years to come for what it is going to do for the teaching and learning that takes place here at Cardinal Mooney."
In order to prepare students for college and beyond, every student at Cardinal Mooney Catholic High School currently utilizes a personal iPad and teachers conduct classes using Apple Televisions, all great resources that help lead the way in the integration of technology and learning in the classroom.
As part of the ceremony of the event, School Chaplain Father Eric Scanlan led a blesses of the new learning center before the unveiling of the "Gail Baird Learning Center" sign. This was followed by ribbon-cutting ceremony which include numerous members of the Baird family including current Mooney student McKenzie.