The 15 Diocese of Venice Catholic schools weathered Hurricane Ian in relatively good shape compared to some of the destruction in the surrounding area.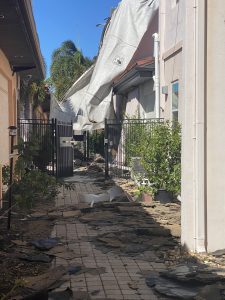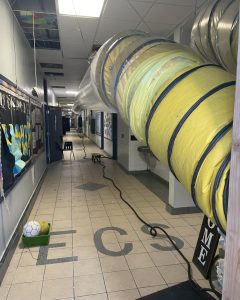 While there was some damage at schools, the most severe were torn roofs at Epiphany Cathedral Catholic School in Venice and St. Francis Xavier Catholic School in Fort Myers.
However, after much work and a rallying by the local communities, by Oct. 5, 2022, just seven days after Ian struck, six of the 15 schools have reopened. For example, Cardinal Mooney Catholic High School students arrived back to classes on Oct. 5, and were greeted by faculty with high-fives, BIG hugs, happy smiles and yummy chocolate.
Of those that were not open, several await the restoration of power or water before they can safely reopen.
Bishop Frank J. Dewane and Father John Belmonte, SJ, Diocesan Superintendent of Catholic Education, surveyed the damage in the days following Ian by making visits to the affected schools.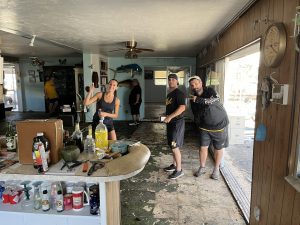 Some of most dramatic damage was to the roof of Epiphany Cathedral Catholic School. There, a large part of the roof peeled off and was left dangling in a breezeway. Similar damage was found at St. Francis Xavier Catholic School. The roof damage at both schools allowed water to intrude into the buildings, adding to repairs.
St. Charles Borromeo Catholic School in Port Charlotte, which will reopen by Oct. 11, had roof damage above the cafeteria and a privacy fence was shredded. Also opening by Oct. 11 will be Incarnation Catholic School in Sarasota, which had minor roof damage, which also caused a small amount of water to intrude into the building.
At each of the schools with damage, contractors were on site within days, working tirelessly to mitigate any further damage and, in some cases, repairs are already taking place.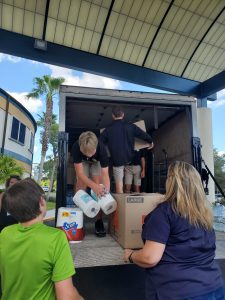 As for the faculty, Father Belmonte said that as of Oct. 4, a number had catastrophic damage to homes, while many others have some damage. It is for this reason that some of the schools that are safe to open, are slightly delayed in that process.
"We want our people to focus on their homes and families before they come back to school," Father Belmonte said, as each school has done a safety assessment of the school building as well as well-being checks of faculty and school families.
At many of the schools, volunteers arrived to help clean as much as possible of the mess Ian left behind. In the hardest hit areas, some teams went to homes to help where they could.
For example, at Bishop Verot Catholic High School in Fort Myers, just a few days after the storm, about 100 students, parents and faculty helped remove the manageable debris from the campus. The school had damage to some roofs and portable classrooms, as well as the bleachers on the football field. The Verot group split into teams to go to homes of impacted families which had water damage from flooding or storm surge throughout, destroying the entire contents. Undeterred, the teams worked to help get rid of as much debris and mud as possible.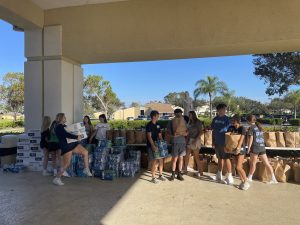 Father Belmonte celebrated Mass for the Cardinal Mooney students on their first day back at school and reminded the students that during times of despair and suffering they are to live out their mission of hearing the call to greatness and holiness when responding to those in need.
"This is a call that comes in prayer; a call that comes when we celebrate the Holy Sacrifice of the Mass; a call we hear when the Gospel of the Lord is proclaimed in our midst," Father continued. "You are called to serve, to help and to give sacrifice to build up the broken world, to build up Jesus Christ. Your school is a great school because it encourages all of you to strive forward to true greatness and holiness. These have been difficult days, but they have been grace-filled, when people of character, virtue and humility have taken action to inspire us by going out to help strangers in need."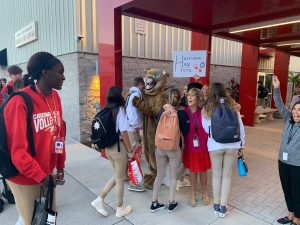 Many Diocesan schools outside the area of the worst impacts of Ian have been collecting items to help impacted families.
St. Martha Catholic School and St. Mary Academy in Sarasota put a call out for emergency supplies to help families at the three Lee County schools (Bishop Verot and St. Francis Xavier in Fort Myers and St. Andrew Catholic School in Cape Coral).
The response was so overwhelming that by Wednesday, Oct. 5, two deliveries had been made to the three schools. The first load included the essentials, such as water, bread and non-perishable foods, car seats, and even new or gently used shoes and clothing for children. As the week progressed, the request went out for cleaning supplies, wipes, diapers and toiletries.
These are just some of the examples of what is taking place at Diocesan Catholic schools. Check back next week as more information is available about reopenings and what is being done to help the schools and the community recover from Hurricane Ian.