Staff Report
Team bonding at St. John Neumann Catholic High School in Naples occurs both on and off the field. Through service to their community, student athletes at Neumann grow both individually and as a team.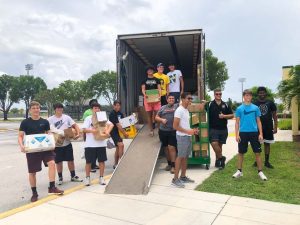 This summer, the Celtic football team in particular focused not only on preparing for their upcoming season but on giving back to their community. Several members of the team joined their classmates in June for a week-long service trip to Immokalee. While there, the Celtics delivered food, sorted goods at the Salvation Army, painted houses, and tutored children. Later, the 2018 Regional Finalists took a break from summer workouts to join Habitat for Humanity at a worksite in Naples.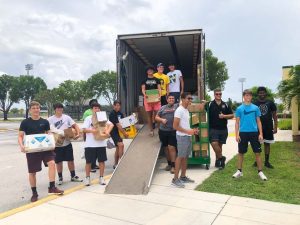 In July, the players held a two-day project with Friends of Foster Children Forever on campus to pack 500 backpacks with donated school supplies and uniforms for local foster children. Over the course of the three months of summer vacation, the Celtic Football Team together completed more than 500 hours of community service.