Diocesan seminarians reach milestones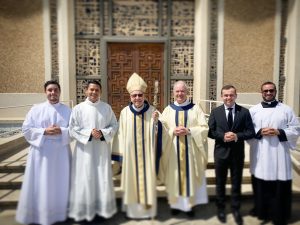 Three Diocese of Venice seminarians studying at St. Vincent de Paul Regional Seminary in Boynton Beach recently reached significant milestones in their discernment of a vocation to the priesthood. Seminarian Jacob Gwynn was conferred as Lector; Juan Contreras as Acolyte, and Alejandro Giraldo Roldán received both Lector and Acolyte. The Mass was celebrated on Sept. 27, 2020 by Bishop Felipe J. Estévez, Bishop of St. Augustine and Chair of the Seminary Board of Trustees. The day was significant in that is was both Priesthood Sunday and the Feast Day of St. Vincent de Paul, for whom the Seminary is named. First, as part of the Rite for Lectors, the Bishop placed the Holy Scriptures in the hands of each candidate and said, "Take this book of Holy Scripture and be faithful in handing on the word of God, so that it may grow strong in the hearts of his people." Then as part of the Rite for Acolytes, the Bishop placed the paten, which contains the hosts for the celebration of Mass, in the hands of each candidate. He then said, "take this vessel with bread for the celebration of the Eucharist. Make your life worthy of your service at the table of the Lord and His Church."
Parishioners pray rosary with deputies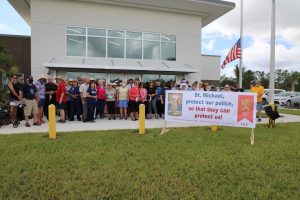 Dozens of faithful from St. Charles Borromeo Parish in Port Charlotte gathered to pray on Sept. 26, 2020 at the District 3 offices of the Charlotte County Sheriff's Office. Participants prayed for the protection of the deputies and their families. The group prayed the rosary and a prayer to St. Michael the Archangel, while also presenting deputies with St. Michael the Archangel medals.
2 Rosary Rallies in Bradenton Oct. 10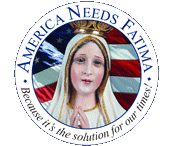 Bradenton will be the host of two separate America Needs Fatima Rosary Rallies, at noon, Oct. 10, 2020. The rallies are at the foot of the cross on the Manatee River at DeSoto National Memorial Park, 8300 DeSoto National Memorial Parkway, and Ss. Peter and Paul the Apostles Parish, 2850 75th St. W. Participants are encouraged to bring lawn chairs or blanket, umbrella and your Rosary. For details on the DeSoto National Memorial Rally, please call Marie at 941-795-0413 and for the Parish Rally, please call 941-795-1228.
Faith & Wine Lee County going virtual
The new season of Faith & Wine Lee County returns 7 p.m., Oct. 22, 2020 with a virtual event livestreamed from the groups Facebook page. The presenter is Liz Larson, who will share her life-changing experience following the devastating diagnosis of her unborn child. Registration is not necessary but encouraged so everyone can register for "door prizes." For more information, please visit www.faithandwineleecounty.com.
Oktoberfest coming to Lehigh Acres
St. Raphael Parish, 2514 Lee Blvd., Lehigh Acres, is hosting Oktoberfest, at 6 p.m., Oct. 24, 2020. This traditional event will include music, authentic German menu, raffles and prizes, as well as a cash bar. The event is sponsored by Knights of Columbus County 6265. Tickets are $20 per person, or $38 per couple. For more information, please call 239-369-8317 or visit www.koc6265.org.
Luncheon to Feature Olympian Nancy Kerrigan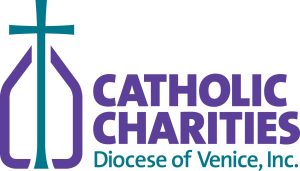 Let's celebrate this opportunity to socialize again and support Our Mother's House of Catholic Charities, Diocese of Venice Inc. with an "It's Time to Dress Up Again!" event featuring superstar and 2-time Olympic Medalist, Nancy Kerrigan. The luncheon, 11:30 a.m., Nov. 18, 2020, Plantation Golf and Country Club, 500 Rockley Blvd., Venice, is hosted by Champagne Tennis and Kerrigan will speak about her life and career. Tickets are $60 per person and include two-course lunch and a drink (red or white wine, mimosa). Tables limited to 6-8 guests and all CDC restrictions will be strictly enforced. To purchase tickets online, please visit www.ccdov.ejoinme.org/ItsTimetoDressUpAgain2020; or send a check to Our Mother's House, PO BOX 2240, Venice, FL 34284. For more information, please call 941-485-6264 or omh@catholiccharitiesdov.org.