A new Rector was installed at Epiphany Cathedral in Venice, marking only the fifth time in its history.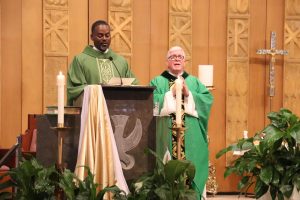 In the context of the Mass on Aug. 8, 2021, Bishop Frank J. Dewane installed Msgr. Patrick Dubois as Rector starting a new chapter in life of the priest and the faithful of Epiphany Cathedral.
Bishop Dewane encouraged the people of the Cathedral to be united behind Msgr. Dubois as he will be called upon to make difficult decisions going forward.
"A priest can't listen to everyone because it is full of contrasting opinions, but he will make a decision after listening to the people of God," the Bishop added. "Remember, we receive Christ individually but it's up to you to lift up the community. It is for all of us."
As part of the installation process, Bishop Dewane first introduces the priest as Rector to the parishioners. The priest later begins the Profession of Faith for all to hear, including an additional part solely for him. The new Pastor then recites an Oath of Fidelity and promises to "adhere to the teachings, which either the Roman Pontiff or the College of Bishops enunciate when they exercise authentic magisterium." The installation also includes prayers to provide the new Rector the wisdom and guidance from the Holy Spirit to lead the Parish.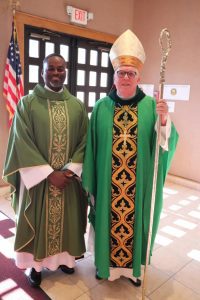 The ceremony concluded with the signing of documents by the Bishop, the new Rector, and two official witnesses of the Parish community, who serve as witnesses for all of the parishioners. Those documents are split between the Cathedral and Diocese as well as Monsignor's personnel records. A celebratory reception was held in the Parish Hall.
Msgr. Dubois, who is also a part of the Diocesan Tribunal, expressed his gratitude to Bishop Dewane for having the confidence in him to be the Rector of the Cathedral. He also thanked his parents, who were present and brought up the gifts during Mass, for being his living example of the faith.
To the people of the Cathedral, Msgr. Dubois promised that he will live out his ministry grounded in prayer and "together we will continue to make the Cathedral a place of encounter of Jesus to the faithful."
The history of the Parish dates to the 1930s when the Church of the Epiphany was created as a Mission of St. Martha Parish in Sarasota. It was in 1955 when the Mission was elevated to Parish status. With the Catholic population in Florida steadily increasing, St. Pope John Paul II in 1984 established two new dioceses, one of which was the Diocese of Venice. The Church of Epiphany was selected to become the Cathedral for the new Diocese. Mass is celebrated at the Cathedral in English, Spanish and Polish and representatives from each group were present for the Mass, as well as friends and family of Msgr. Dubois from his previous pastoral assignements.