The Catholic Community Foundation of Southwest Florida has announced a new endowment fund that was established by members of the Notre Dame Naples Club in honor of Father Thomas Glackin.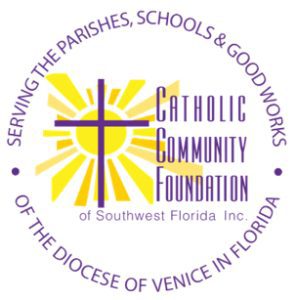 The Fr. Thomas J. Glackin Memorial Scholarship Fund was established to provide need-based tuition assistance to financially needy Catholic students at St. John Neumann Catholic High School in Naples. The Club is asking all those interested in honoring Father Glackin to contribute to the Memorial Fund as a way to remember him.
Father Glackin served as the Chaplain of the Notre Dame Naples Club for more than 20 years. An avid Notre Dame fan, Father Glackin was Pastor of both St. John the Evangelist and St. Agnes Parishes in Naples.
To learn more about the Foundation or to donate to the Father Glackin Memorial Fund, please visit: https://ccfdioceseofvenice.org/donate-to-the-fr-thomas-glackin-memorial-scholarship-fund/.
You can also contact the Catholic Community Foundation by phone at 941-441-1124, by email at Morse@dioceseofvenice.org, or by mail at 1000 Pinebrook Rd., Venice, FL 34285