Virtual Diocesan Concert Series continues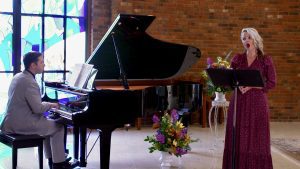 The first Virtual Diocesan Concert was a success when it was streamed live from Incarnation Parish in Sarasota on Nov. 6, 2020. Incarnation Music Director Andi Zdrava directed the performance with Johanna Fincher and Abigale Zdrava providing the stunning vocals, while Dr. Nina Kim played the violin and Edevaldo Mulla the cello.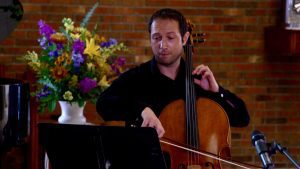 Music included a variety of selections such as "Panis Angelicus" and "I heard the voice of Jesus say," as well as two versions of the "Ave Maria." The series continues from a new location on Nov. 13, 2020 at noon and again on Nov. 20, 2020. Each segment will be live and last approximately 30 minutes. Anyone can view the live stream through the Diocese of Venice Facebook page at www.facebook.com/dioceseofvenice. You do not need to register to view live events on Facebook.
Catholic Medical Association Guild leaders meet with Bishop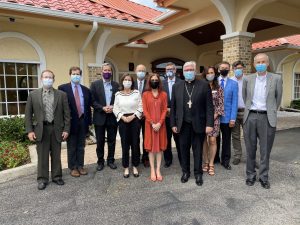 Leadership of the Southwest Florida Guild of the Catholic Medical Association met with Bishop Frank J. Dewane on Nov. 5, 2020 at the Catholic Center in Venice. The leadership provided Bishop Dewane with their annual report on their latest activities.
Bereavement seminar Nov. 16 in Naples
Deacon Henry deMena is hosting "There is Hope – Surviving the Holidays" Bereavement Seminar at 3 p.m., Nov. 16, 2020, at the St. Agnes Parish Center, 7775 Vanderbilt Beach Road, Naples. This is for those who have experienced a death in the family or the loss of close friend or are trying to help someone who has experienced a loss. Deacon deMena will share he bereavement counseling experience and helpful advice on surviving the holidays. He will also discuss issues which have arisen as a result of isolation due to COVID-19. The seminar is free and open to all. No registration is required. Masks must be worn. Seating will be socially distanced. For those not comfortable to attend, the seminar will be livestreamed from the St. Agnes Parish website and Facebook pages. For more information, please email Deacon deMena at deaconhenry@stagnesnaples.org.
Youth make prayer bowls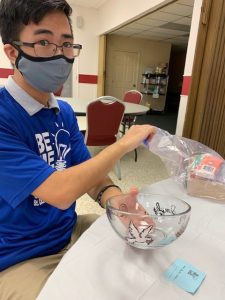 Youth at St. Cecilia Parish in Fort Myers gathered Nov. 8, 2020 to make prayer bowls. The youth used arts and crafts to decorate their bowls with various religious symbols as part of an ongoing effort to learn about the significance of various Christian symbols such as the dove, the Alpha and Omega and much more.