For the past 18 months or more, physicians, nurses and allied health professionals have been on the front lines in the battle against the COVID Pandemic.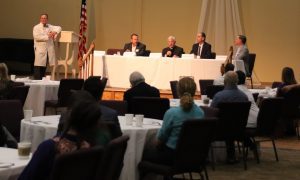 On Oct. 16, 2021, they were formally recognized for their dedication to the service of others during a White Mass at St. Agnes Parish in Naples. Many of those present wore white coats, the signature clothing of the medical profession.
"For your example I am deeply grateful," said Father Michael Orsi, Parochial Vicar at St. Agnes. "More than me being grateful, you gave witness to numerous people – the patients who were critically ill under your care; and to their families… You gave a tremendous witness to the world with your love, care and concern for fellow human beings. You put the Gospel into action."
Father Orsi added that many try to think of themselves growing up and becoming heroes and he wondered what the medical professionals felt every time they reported to the Intensive Care Units at the local hospitals for their next shift to care for the sick and dying during the Pandemic.
"I know I was scared when I went to the ICU," Father Orsi said of his role in ministering to the sick and dying in a different way as priest. "No disease is going to get in the way of my work on behalf of the people of God and you let nothing get in your way because you are dedicated to the care of God's people."
During the Mass there was a blessing of the stethoscopes, led by Father Bob Kantor. Afterwards, a breakfast and lecture were held in the Parish Hall.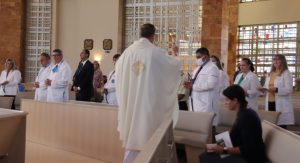 The keynote speaker was Paul Hiltz, the President and CEO of Naples Community Healthcare System who spoke on "Spiritual Leadership in a Secular Healthcare Setting." Hiltz stressed the importance of spirituality in medicine and shared his experiences since the beginning of the Pandemic and the challenges of serving the physical and spiritual needs of the patients, families and staff.
Following the lecture, Dr. Michael Gloth moderated a discussion with panelists: Father Orsi, Hiltz, Lawrence Antonucci, President and CEO of Lee Health, and Scott Lowe, CEO of Physicians Healthcare System. Each CEO shared the challenges faced during the Pandemic saying Southwest Florida is fortunate to have three health systems which work together rather than in competition. The CEOs also offered their thoughts on the importance of faith in healthcare, agreeing that it is proven in many studies that patients with a strong faith have better recovery outcomes than those who have none. This is also true for family members who serve as the support for patients during and after their stay in the hospital.
The panel also took questions from those attending the lecture. For their participation, the medical professionals were eligible to earn Continuing Medical Education credits.
It was noted afterwards that the 2021 White Mass brought together the largest number of people since it first began several years ago.