Staff Report
Rosemary and Lou Oberndorf recently joined a rapidly growing list of donors who have chosen to partner with the Catholic Community Foundation of Southwest Florida to help create their Catholic Legacies. By establishing an endowment fund with the Foundation, the Oberndorfs are helping to ensure the long-term sustainability of the programs and ministries about which they care most.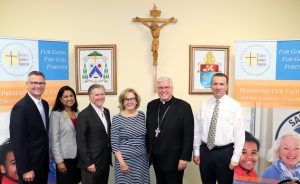 Rosemary and Lou are passionate about their faith and about making a difference by supporting the Good Works of the Catholic Church within the Diocese of Venice and beyond.
"Lou and I are so impressed with Catholic Charities and their wonderful programs for the homeless, especially for single mothers and families within Sarasota County," Rosemary said of Our Mother's House, which provides mothers who might otherwise be homeless not only with safe housing but a program that has a proven track record of success.
Lou added that because the couple wanted the wonderful work of Our Mother's House "to continue far into the future, we established an endowment fund that will help sustain these programs well beyond our lifetimes."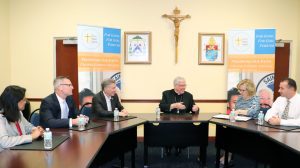 The Oberndorfs formally signed their endowment fund paperwork during a brief ceremony April 23 at the Catholic Center in Venice. The signing included Bishop Frank J. Dewane, Diocesan Chancellor Dr. Volodymyr Smeryk, Foundation Executive Director Michael Morse, and Catholic Charities, Diocese of Venice Inc. CEO Philomena Pereira.
Bishop Dewane thanked the Oberndorfs for their generosity and for their confidence in the Foundation to focus their charitable efforts in a specific and meaningful way.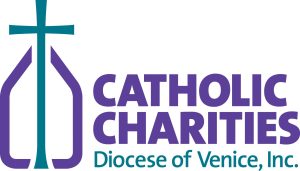 Pereira stated that "the ongoing support provided by the Oberndorf Endowment Fund will assist single mothers and their young children at Our Mother's House to achieve self-sufficiency through education, vocational training and personal growth."
More and more individuals and families, like the Oberndorfs, are choosing the Catholic Community Foundation as their philanthropic partner to help them fulfill their charitable goals. The Foundation offers services similar to other community foundations but differs from them in one very important way – the Foundation is a faith-based, Catholic organization. This means the Foundation will only support Catholic, pro-life or social service agencies whose missions are in alignment with the teachings of the Catholic Church. It also means that all endowed gifts are invested according to the socially-responsible guidelines established by the U.S. Conference of Catholic Bishops.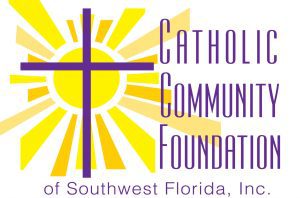 Morse, of the Foundation, stated "We are very blessed to have the opportunity to work with people like Rosemary and Lou who care so much about their Catholic Faith and who want to make sure the Church's programs and ministries will be here to serve those in need for generations to come."
In addition to endowment funds, the Foundation offers a wide range of gifting options for donors including scholarship funds, donor advised funds, charitable gift annuities, charitable remainder trusts and more.  According to Morse, the Foundation works with each donor individually to first understand what they want to accomplish and then determine how best to accomplish it.
To learn more about the Catholic Community Foundation, please contact Michael Morse at 941-441-1124 or by email at Morse@dioceseofvenice.org.  You can also visit the Foundation website at www.CCFDioceseofvenice.org.