Bob Reddy – Florida Catholic
1/17/19
Nicole Loseto has dedicated her life to Catholic Education. Her latest opportunity has taken her to be the new Principal at St. Catherine Catholic School in Sebring. She was introduced to the school community on Dec. 12 after a Mass celebrating the Feast of Our Lady of Guadalupe.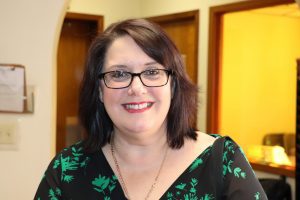 Father Jose Gonzalez, Pastor of St. Catherine Parish, noted that Loseto is a perfect fit for the position at the fast-growing school which opened in 2008 and is the only Catholic School in the Eastern Deanery. "God has sent us the right person for the right time."
Loseto comes to St. Catherine's from Epiphany Cathedral Catholic School in Venice where she served as Assistant Principal and teacher.
A graduate of Washington University in St. Louis, she also holds two Masters' degrees – one from Touro College in New York (Education and Special Education) and a second from the University of Cincinnati, Ohio (Educational Leadership).
She has 16 years of educational experience having served as a teacher, director and now in her most recent assignment at Epiphany Cathedral Catholic School where she will continue to assist the staff through this transitional period for both schools.
Diocese Director of Education Dr. Ben Moore, who made the announcement to the students, faculty and staff, said Loseto is dedicated to maintaining a positive and inclusive school environment where all students and staff feel supported and respected.
"She has proven to be a collaborative leader and has worked with a variety of individuals and teams to ensure that all programs are of high quality," Dr. Moore added. "I am confident Mrs. Loseto will lead St. Catherine Catholic School to a bright and hopeful future."
Having worked in banking and finance for 10 years, Loseto explained that she found her true calling in education and most specifically working in Catholic Schools in New York City.
"I heard of the need here at St. Catherine's, and once I walked through the doors I knew this was the place I wanted to be," she said. "My job is to work to make positive changes in the school and community going forward."
The main goal for Loseto is to help the students develop a loving relationship with God and to be faithful members of the community while also providing a nurturing and safe environment for the children."
"The priority it is to improve the quality of education, to help each student achieve their own academic excellence," Loseto added. "This is to prepare our students for a lifetime of success."
These goals will take time and teamwork, Loseto added, not just from the faculty and staff, but from the entire school community. "I know we can do this together."