The more than 30 new teachers who have joined the Diocese of Venice for the 2020-2021 Academic Year were warmly welcomed during an orientation session on Aug. 3, 2020 at Epiphany Cathedral Catholic School.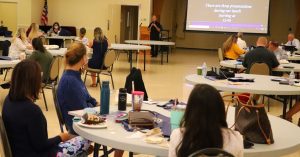 Father John Belmonte, SJ, Superintendent of Catholic Education, opened the meeting with morning prayer and an introduction to what he believes is the mission of Catholic Schools: to introduce the world to its Savior. With that anchor, Father explained, Catholic Schools can do great things. Father Belmonte also celebrated Mass for the group before lunch.
Bishop Frank J. Dewane addressed the new teachers, welcoming them and sharing his great respect for their answering the call be educators – taking the gifts they have been given to help others learn.
As Catholic School teachers, no matter what subject they teach, Bishop Dewane noted that they are now a primary contact for the students and families to the Diocese, a responsibility he expects them to take seriously in how they serve as teachers and as examples for the community.
The 15 Diocesan Catholic Schools work conscientiously to provide Christ-centered learning experiences that are transportable to the real world and provide the opportunity for children to develop life-long learning skills and to be successful beyond the classroom. The schools offer cross-curricular learning experiences through STREAM (Science, Technology, Religion, Engineering, Arts, and Math), as well as traditional learning environments that instill strong foundations in reading, writing, and math.
During the orientation, the new teachers also took part in Diocesan Safe Environment training, heard about their employee benefits, risk management, workplace safety, certifications process and about standard and ethical conduct.
All Diocesan Catholic Schools will open on Aug. 17, 2020. For more information about Diocese of Venice Catholic Schools, please visit https://dioceseofvenice.org/offices/offices-departments/catholicschools/.
To hear Bishop Dewane and Father Belmonte speak about the reopening of Catholic Schools on Aug. 17, check out the podcast at https://dioceseofvenice.org/our-bishop/relevant-radio-podcasts/.