Candidates take Oath and Profession
Seven diaconate candidates took an Oath of Fidelity and gave a Profession of Faith on July 29, 2020, the final hurdle before the group will be ordained as Permanent Deacons on Aug. 15, 2020 at Epiphany Cathedral in Venice.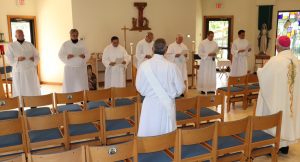 Bishop Frank J. Dewane presided over Mass and the ceremony at Our Lady of Perpetual Retreat Center in Venice where the men were concluding a 5-day canonical ordination retreat.
Jeffrey Ball of Ave Maria Parish, Ave Maria; Enrique (Rick) Castro of St. Cecilia Parish, Fort Myers; Ramiro Hernandez of St. Michael Parish, Wauchula; Jack W. Milholland Jr. of Our Lady of the Angels Parish, Lakewood Ranch; Roberto Pagán of Jesus the Worker Parish, Fort Myers; Vern W. Smith of St. Martha Parish, Sarasota; and Dr. William Soscia of St. Joseph Parish, Bradenton, are each concluding five years of discernment and study leading up to their ordination.
Bishop Dewane thanked Ball, Castro, Hernandez, Milholand, Pagán, Smith and Soscia, for having answered the call of Jesus to live their life in a particular way. "You have been chosen to a specific status which you are committed to. This Oath and Profession are a public expression of a promise to live your Faith in a precise way."
During the Oath, the diaconate candidates recited the Profession of Faith for all to hear. The candidates then read the "Oath of Fidelity" and promised to "adhere to the teachings, which either the Roman Pontiff or the college of bishops enunciate when they exercise authentic magisterium." The ceremony concluded with the signing of documents by the candidates and the Bishop.
The Bishop was joined by Father Fausto Stampiglia, S.A.C., Director of the Diaconate and Pastor of St. Martha Parish in Sarasota; Deacon William Ladroga, Director of Diaconate Formation; and J. Robert Gaitens, Associate Director of Diaconate Formation.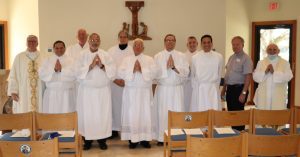 During the process to become a Permanent Deacon, the seven have received training in theology, canon law and pastoral ministry. In 2019, they were admitted as acolytes to assist priests and other Permanent Deacons on the altar during Mass. Prior to that, they were admitted as candidates when they publicly declared their intention of becoming Deacons and the Bishop accepted them. They were also instituted as readers so they could read the Scriptures during Mass.
To a man, they describe their journey toward ordination as both a challenging and life-changing process which started with answering a call from the Lord they heard deep in their heart. Each also credit their wife for supporting and joining them on this journey of enlightenment.
The mission of the Permanent Deacons of the Diocese of Venice is to: serve as ministers of charity, lead in identifying the needs of others and strive to meet those needs; serve as ministers of the Word, when they proclaim the Gospel, preaching and teaching in the name of the Church; serve as ministers of the Sacrament of Baptism; witness marriages; conduct wake and funeral services; and lead the faithful in prayer.
Their ordination ceremony, celebrated by Bishop Dewane, is 11 a.m. Aug. 15, 2020, Epiphany Cathedral, 350 Tampa Ave. W., Venice. The Mass, which was postponed from early June due to the COVID-19 Pandemic, will include the wearing of masks and social distancing whenever possible. All are encouraged and welcome to attend. A reception will follow in the Cathedral Parish Hall.