The roar of the crowd at LECOM Park on July 31, 2020 was not for a Bradenton Marauders minor league baseball game but for the graduating seniors of Cardinal Mooney Catholic High School.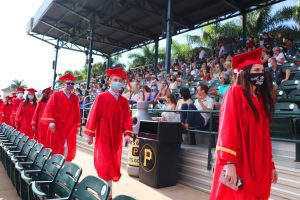 The class of 133 is an impressive group, earning more than $10 million in scholarships and nearly all will be attending college in the coming weeks. Delayed from its original date in late May due to the ongoing COVID-19 Pandemic, some were not present for the graduation because of college or work commitments, but each was recognized during the Commencement Exercises.
The night before the commencement, on July 30, 2020, the Class of 2020 was given a proper send off for Catholic high school students, with a Baccalaureate Mass celebrated by Bishop Frank J. Dewane at Incarnation Parish.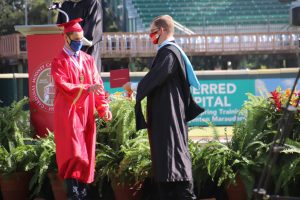 "With the pandemic, so much has changed for all of us and we find ourselves in a very unique situation," Bishop Dewane said. "As a class, likely all of you here have become closer while at the same time being 6-feet apart. It's something unique and something you will always remember."
While the Bishop noted that the graduates may feel they are a little less fortunate than some other classes because of opportunities lost and graduating during a global pandemic and economic crisis.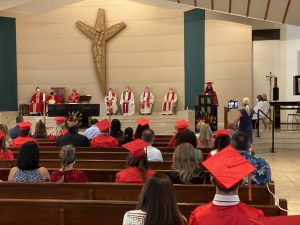 "At the same time, despite that difficulty, the Lord calls us together to celebrate in the way that we can celebrate who you are and who you are becoming as a man or woman of God," Bishop Dewane continued. "You have to have the grace to respond to those changes in your life… Use the gifts you have gained, received and earned at Cardinal Mooney and go forward and build upon those to be your strength as you go forward facing life anew."
During the graduation, masks were worn and social distancing occurred whenever possible as friends and family were spread out in the stands at LECOM Park. The graduates initially sat along the third base line. When their names were called, each graduate came forward crossing the infield to behind the pitcher's mound where Principal Ben Hopper was there to hand out the diplomas. The graduates were also congratulated by Father John Belmonte, SJ, Diocese of Venice Superintendent of Catholic Education and Father Eric Scanlan, Cardinal Mooney Chaplain and Administrator of Incarnation Parish. The Commencement Address was given by Dr. William Soscia, Mooney Class of 1984.
The loudest applause during the Commencement came when Hopper presented a diploma to graduate Michael Bavaro. Bavaro was a star lacrosse player who broke several vertebrae in a March 2020 boating accident and requires the use of a wheelchair.