Bishop celebrates Mass for students in Bradenton, Sarasota and Naples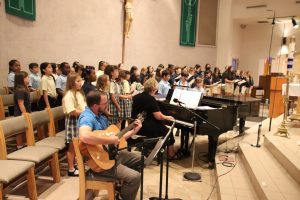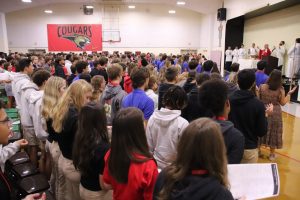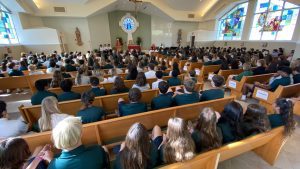 Bishop Frank J. Dewane recently celebrated Mass for students at three Diocesan Catholic schools, visiting St. Joseph Catholic School in Bradenton, Sept. 7, 2022, Cardinal Mooney Catholic High School in Sarasota, Sept. 12, and St. John Neumann Catholic High School in Naples, Sept. 13. Bishop Dewane continues to be impressed by the increased enrollment at each of the schools as the students filled churches, chapels and gymnasiums. The Bishop is also continuing to invoke the Holy Spirit to descend upon the students as they go forth into the 2022-2023 Academic Year.
Seminarian prepares for Transitional Diaconate Ordination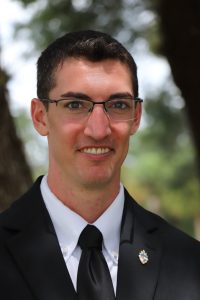 In preparation for their upcoming diaconate ordination, the fourth-year class at Pontifical North American College (NAC) in Rome publicly professed the Faith of the Church and made an Oath of Fidelity in the presence of the NAC community on Sept. 13, 2022. Among those taking their oath was Diocese of Venice Seminarian Daniel Scanlan, who will be ordained on Sept. 29 at St. Peter's Basilica. Please continue to pray for Daniel and all seminarians as they approach this milestone of their formation journey.
Robot building engages students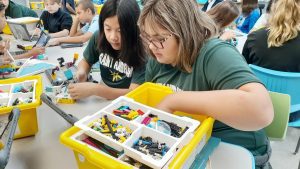 Students at St. Andrew Catholic School in Cape Coral were busy on Sept. 12, 2022, building Lego Education Spike Prime Robots in Robotics class. The robotics program at St. Andrew allows students to learn and excel using skills that will prepare them for the future. Eventually, teams will be formed to compete in completing various tasks or taking part in a robot obstacle course within the school, and as the year progresses, against other robotics teams from other Diocesan Catholic schools.
Faith Formation kicks off in Fort Myers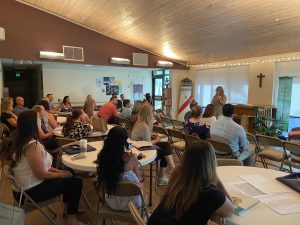 The faith formation program at Our Lady of Light Parish and St. Cecilia Parish, both in Fort Myers, got a kick-start on Sept. 11, 2022, when hundreds of children began a new educational journey as they grow closer to the Lord. Our Lady of Light has some 150 in its K-5 formation program called "Footsteps in Faith." St. Cecilia had their first classes learn Patriotic songs in conjunction with Patriot's Day.
Life skills learned at school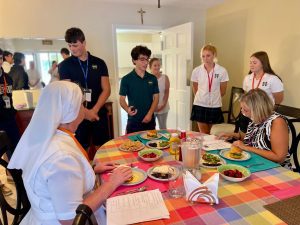 St. John Neumann Catholic High School in Naples had its own version of the TV reality show "Chopped!" on Sept. 9, 2022. Students in a life skills class created a menu, recipe, budget and learned about how to read nutritional labels on grocery items. This included a trip to a grocery store and then preparing and serving the delicious creations for the judges, which included the Principal, Sister Patricia Roche, Salesian Sister of St. John Bosco. The results were delicious.
Students celebrate Our Lady's birthday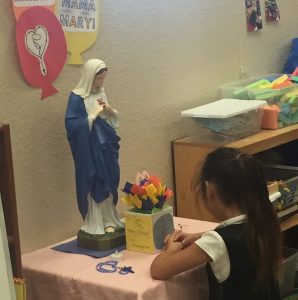 To honor the Blessed Virgin Mary on her birthday, Sept. 8, 2022, students at Ave Maria Catholic School and Donahue Academy in Ave Maria made special efforts to mark this joyful event. This outpouring of love for Our Lady included homemade cookies, handmade cards and paper flowers for the Mother of God. The kindergarten students also made private visits to a statue of Our Lady, offering their prayers and best wishes on Mary's special day.
Scientific method learned in classroom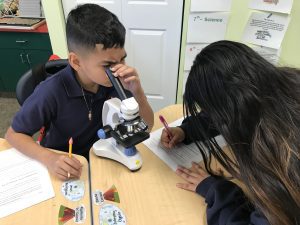 Sixth grade science students at St. Catherine Catholic School in Sebring have been learning about the scientific method – consisting in systematic observation, measurement, and experiment, and the formulation, testing, and modification of hypotheses. For example, on Sept. 12, 2022, they grew bacteria in a petri dish and conducted a scientific investigation and observed their bacteria specimens under a microscope. This type of project offers a hands-on approach to learning which helps students use multiple skills in order to complete their experiments.
Kindness rocks found on school campus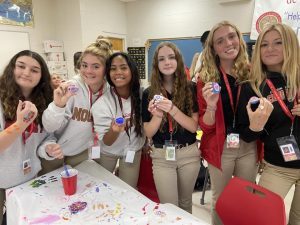 If you visit Cardinal Mooney Catholic High School in Sarasota, you might spot colorful rocks on the ground. These rocks were not lost during some science experiment gone awry, they were in fact created by freshmen in their theology class as part of a "Kindness Project." With the assistance of guidance counselors, each small rock was colorfully decorated and included a simple message of kindness, such as "Live your best life!" "Be You!" "Smile!" and more. The reaffirming artistic creations were then placed throughout the campus on Sept. 9, 2022.