Sebring robotics team demonstrate skills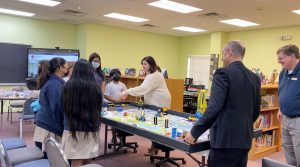 The St. Catherine Catholic School Robotics Team demonstrated their skills on Feb. 15, 2022, in Sebring during a visit from Diocese of Venice Superintendent of Catholic Education Father John Belmonte, SJ, and Jennifer Falestiny, Diocesan Curriculum Specialist. The team has made remarkable progress in their skill level and has participated in a few competitions to hone their skills in preparation for a Diocesan Robotics Competition in May.
40 Days for Life in Sarasota and Fort Myers

Join other Christians during Lent (through April 10), for the Spring 40 Days for Life Campaign in Fort Myers and Sarasota. This year's Campaign is the biggest Lenten effort yet, with prayer vigils planned in 588 cities. This Campaign encompasses 40 days of prayer and fasting for an end to abortion. Stand and peacefully pray during vigils in the public right-of-way outside Planned Parenthood in Fort Myers or Sarasota. The Fort Myers prayer vigil is 9 a.m.-5 p.m., Monday to Saturday, at 6418 Commerce Park Drive. The Sarasota prayer vigil is daily from 7 a.m. to 7 p.m. at 736 Central Ave. Check with your local Parish to learn the days they are committed to standing up for life. Most participants are encouraged to spend at least one hour in silent prayer in front of a local abortion facility seeking an end to legalized abortion in the U.S. With a landmark case before the U.S. Supreme Court now there has never been more reason for hope and prayer. For 40 Days for Life information on the two Diocesan locations, please go to www.40daysforlife.com/sarasota or www.40daysforlife.com/fortmyers.
National Merit Finalists named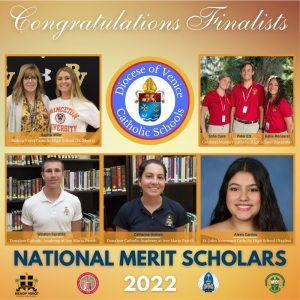 Congratulations to the seven Diocese of Venice Catholic high school seniors for advancing as Finalists in the National Merit Scholarship Program! The finalists are: Alexis Camina of St. John Neumann Catholic High School in Naples; Catherine Graham and Winston Fairchild of Donahue Catholic Academy of Ave Maria Parish; Hallie Monserez, Peter Etz and Sofia Cava of Cardinal Mooney Catholic High School in Sarasota; and Sophia Miller of Bishop Verot Catholic High School in Fort Myers. Finalists have an opportunity to continue in the competition for some 7,500 National Merit Scholarships worth more than $30 million. The process to become a Finalist includes submitting a detailed application with information about their academic record, participation in school and community activities, demonstrated leadership abilities, employment, as well as honors and awards received.
"Pope's Rabbi" speaking in Naples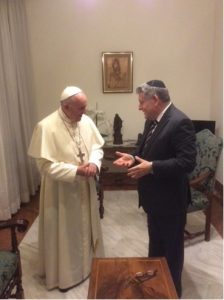 The Catholic-Jewish Dialogue of Collier County presents Rabbi Abraham Skorka, a longtime friend of Pope Francis, for a presentation at 3 p.m., Sunday, April 3, at St. John the Evangelist Parish, 625 111th Ave. N., Naples. With his return visit to the Diocese of Venice, Rabbi Skorka will describe his ongoing Catholic-Jewish dialogue with Pope Francis beginning while the Pontiff was Archbishop of Buenos Aires and which continues to this day. The program is presented by the Catholic-Jewish Dialogue of Collier County, the Diocese of Venice and the Jewish Federation of Greater Naples. Tickets are $18 per person in advance ($25 at the door if space is available). To purchase tickets, please visit www.jewishnaples.org.