Children's Festival held in Wauchula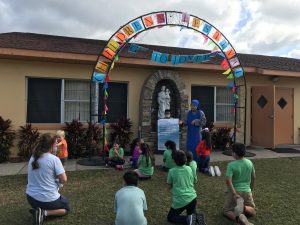 The annual Children's Festival was held at St. Michael Parish in Wauchula on Jan. 23, 2021. The Festival brings children from kindergarten through fifth grade to the Parish for a day of prayer and fun.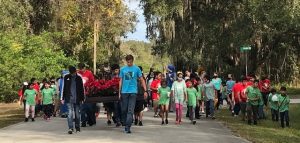 The day included Mass, a Eucharistic Procession, as well as presentations about how they can grow in their Faith. In addition, there were various games, many of which had a faith-based theme. The women religious who serve the Parish, Sisters Servant of Lord and the Virgin of Matara, organized the festival.
"A Seminarian Story" sixth installment available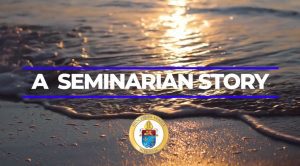 The Diocese of Venice in Florida Office of Vocations launched a video series titled, "A Seminarian Story," to celebrate the 16 Seminarians currently in formation. The first four videos have been released and more will follow approximately every few weeks. The most recent video is about Seminarian David Portorreal who is doing formation at St. Vincent de Paul Regional Seminary in Boynton Beach.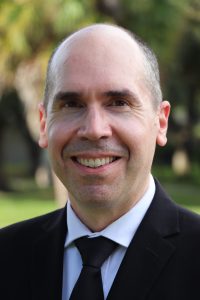 Developed with the assistance of the Diocese Communications Department, the goal of the series is to inspire others to follow in the path to the priesthood or religious life, as well as encourage the faithful to continue to support the seminarians as they continue their formation process at different seminaries. "A Seminarian Story" featuring David Portorreal can be found at https://vimeo.com/443069438.
Men's & Women's Conferences 2021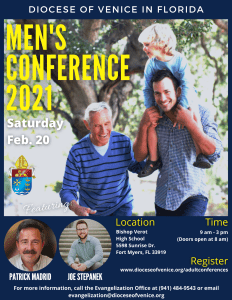 Registration is now open for the 2021 Men's & Women's Conferences! The Men's Conference will feature speakers Patrick Madrid and Joel Stepanek on Saturday February 20th.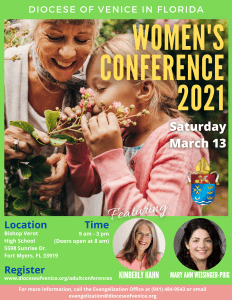 The Women's Conference will feature speakers Kimberly Hahn and Mary Ann Weisinger-Puig on Saturday March 13. Both conferences will be held at Bishop Verot High School in Fort Myers from 9:00 a.m. to 3:00 p.m. (doors open at 8:00 a.m.) with Mass celebrated by Bishop Frank J. Dewane and Confession available all day. To register, please visit www.dioceseofvenice.org/adultconferences.
Anniversary Masses
All couples celebrating 25, 30, 35, 40, 45, 50, or more than 50 years of marriage are invited by Bishop Frank J. Dewane to an Anniversary Mass in their honor to be celebrated in two locations. This year, considering the ongoing COVID-19 Pandemic, each location will have two Masses to allow for appropriate social distancing. The Masses are 10 a.m. and noon on Feb. 6, 2021, Epiphany Cathedral, 350 Tampa Ave. W., Venice, and 10 a.m. and noon, March 6, 2021, St. Leo the Great Parish, 28290 Beaumont Road, Bonita Springs. All registration is being handled through your local Parish. Please reserve seats at least one week before the Mass you wish to attend.
Begin your year with Jesus in the Eucharist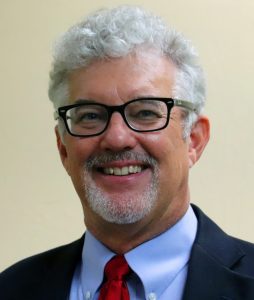 What better way to begin 2021 than in the presence of Jesus in the Most Blessed Sacrament? The Office of Evangelization will be hosting several evenings of Eucharistic Adoration with Confession available, music, reflection, and time for silent prayer. Jesus, who makes "All Things New" will bring a newness to your faith in this new year. Locations include Our Lady of Light Parish, Fort Myers, Feb. 2; Our Lady of the Angels Parish, Lakewood Ranch, Feb. 3; St. John the Evangelist Parish, Naples, Feb. 4; Incarnation Parish, Sarasota, Feb. 11; and St. Joseph Parish, Bradenton, Feb. 16. Adoration begins at 7 p.m. and goes until 8:30 p.m.
Bibles presented to Bradenton students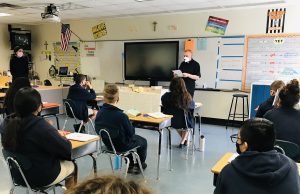 Father Rafal Ligenza, Administrator of St. Joseph Parish in Bradenton, presented bibles to each of the seventh and eighth graders at St. Joseph Catholic School on Jan. 21, 2021. Father Ligenza presented the bibles as gifts from the Parish and then prayed with the students.
Encountering God in Prayer: A Lenten Journey
Spend this Lent growing in prayer! "Encountering God in Prayer: A Lenten Journey" is a theological and practical online course offered by the Institute for Catholic Studies and Formation. The course will guide you through the rich and beautiful teaching on personal prayer found in part four of the Catechism of the Catholic Church. Short video lectures, online discussions, prayer exercises and other learning activities will constitute the class content. Students log in each week at times most convenient to them. The instructor, Dr. John Gresham, Executive Director of the Institute, has extensive experience teaching on prayer in courses, workshops, and retreats. The course is $25 and runs from Ash Wednesday, Feb. 17, 2021 to April 5. For more information, visit www.institute-dov.org, call 941-766-7334 or email john.gresham@institute-dov.org.
Water bottle stations make an impact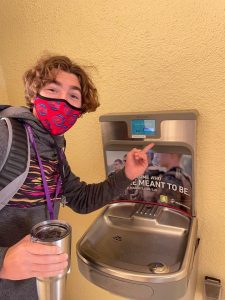 Each Diocesan Catholic school strives to be good steward of God's creation, including making every effort to limit the amount of trash. At St. John Neumann Catholic High School in Naples, water bottle filling station were installed to cut down on the waste caused by plastic water bottles. On Jan. 22, 2021 Neumann Senior Tommy Anderson was recognized as the 10,000th water bottle filler at one of the stations on campus. Principal Sister Patricia Roche, Salesian Sister of St. John Bosco, presented Anderson with a certificate during morning prayers/announcements. The stations were installed thanks to the Home and School Association. Since the start of the Academic Year, 31,609 water bottles have been saved from entering the landfill.
Verot student to attend Congress of Future Medical Leaders
Eric Avin, a ninth grader at Bishop Verot Catholic High School in Fort Myers, will serve as a Delegate to the Congress of Future Medical Leaders this March. The Congress is an honors-only program for high school students striving for a career as a physician or in a medical research field. The event is designed to honor, inspire, motivate and direct some of the brightest students in the country and to provide a path, plan and resources to help them reach their goal. He was chosen based on the recommendations of a teacher and a Nobel laureate, and on his academic achievement, leadership potential and determination to serve humanity in the field of medicine. During the two-day virtual Congress, Eric will have the chance to hear Nobel Laureates and National Medal of Science Winners talk about leading medical research; learn about cutting-edge advances and the future in medicine and medical technology and much more.
Safe Haven Sunday
Pornography is one of the leading causes of addictions, abuse, adultery, divorce, and even human trafficking: it is, in short, a pervasive evil inflicting grave wounds on our families. Pornography creates unsafe environments for children and confuses others about attitudes towards sex and marriage. It is a moral issue. For this reason, March 7 has been designated as Safe Haven Sunday in the Diocese of Venice. This day for awareness will give an opportunity to address the harmfulness of pornography in marriages, families, and culture, while providing helpful resources for all. Detailed information about the implementation of this program will be shared in the coming weeks through your Parishes. If you have any questions, please contact Carrie Harkey, Diocesan Coordinator of Family Life at harkey@dioceseofvenice.org or 941-484-9543.
Faith and Wine Lee County Feb. 25
The next gathering of Faith and Wine Lee County will be a virtual Zoom event beginning at 7 p.m., Feb. 25, 2021. The speaker is Donna-Marie Cooper O'Boyle, who will present "Small Things with Great Love: To Love like Mother Teresa." To see the complete line-up of speakers, or to register, visit https://faithandwineleecounty.com.