Pornography is one of the leading causes of addictions, abuse, adultery, divorce, and even human trafficking: it is, in short, a pervasive evil inflicting grave wounds on our families. Pornography creates unsafe environments for children and confuses others about attitudes towards sex and marriage. It is a moral issue.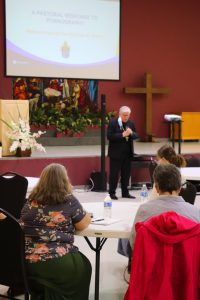 For this reason, Bishop Frank J. Dewane has designated March 7, 2021, Safe Haven Sunday in the Diocese of Venice. This day of awareness will provide the opportunity for the Diocese to directly address the problem of pornography in marriages, families, and in our culture. At the same time, resources will be made available to support individuals, married couples and families in making their homes safe from pornography.
Safe Haven Sunday was developed in direct response to the USCCB's document "Create In Me a Clean Heart: A Pastoral Response to Pornography." To aide Parishes in their preparation for educating the faithful about the importance of Safe Haven Sunday, the Diocesan Office of Family Life hosted a series of presentations for Diocesan Priests, Deacons, and lay leaders between Jan. 11 and Jan. 13, 2021.
The response to the presentations was overwhelmingly positive. Several priests noted that addiction to pornography is a common theme in troubled marriages and that the tools provided through the Safe Haven Sunday process are most welcome.
In addition, several lay leaders expressed their gratitude toward Bishop Dewane for having the courage to publicly address the issue of pornography. They are also grateful for the opportunity to take part in the presentations, while at the same time being provided real resources that can be disseminated to the entire Parish community.
More than 50 priests attended a presentation on Jan. 12 at St. Charles Borromeo Parish in Port Charlotte, while another 140 attended separate sessions at St. Catherine Parish in Sebring, St. Leo the Great Parish in Bonita Springs, and St. Patrick Parish in Sarasota.
"The goal of the sessions was to raise awareness among those who help advance the mission of the Church to foster and support holy families," explained Carrie Harkey, Director of the Diocesan Family Life Office. "This is the introduction to a three-year process which will create awareness about this important issue while also providing key tools to create that safe haven in the home."
The presentations were delivered by Ryan Foley, Vice President of Business Development for Covenant Eyes, a company that provides faith-based internet accountability and security software in support of families to protect them from internet pornography.
Foley covered current statistics, trends, the devastating impact pornography has on children's developing brains, as well as offering resources and tools to aide in ministering to those struggling.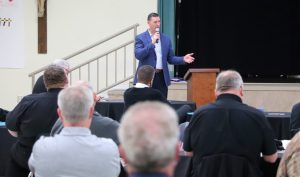 "First exposure to internet pornography is often during the elementary school years, often by accident with the search of a keyword on social media," Foley explained to his stunned audiences. "When parents and guardians haven't created an environment where it's safe and welcome to talk about uncomfortable topics, children will often hide these experiences out of shame and embarrassment. This reality creates an impediment to obtaining deep and lasting relationships with Our Lord."
The presentation for priests included an overview of the issue, enlightenments about accessibility of pornography for faithful of all ages, as well as also offering tools for future homilies, private discussions in marriage counseling, or in the confessional.
The first Safe Haven Sunday will have a theme of "Equipping the Family, Safeguarding Children," a time when the Diocesan faith community joins in saying we want holy, healthy, and safe homes, free from pornography and other online threats that deprive the home of its role as a safe haven.
To help marriages and families, each home will be given a free copy of Covenant Eyes' book, "Equipped: Smart Catholic Parenting in a Sexualized Culture." This book includes a unique seven-day text-to-go-opt-in-program, the Safe Digital Family Challenge. This challenge provides practical tips any caring adult can take to create safer digital environments for themselves and our young people. To ensure that all families receive this book, the Diocese is supplementing half of the costs.
Additional information about Safe Haven Sunday will be shared in the coming weeks. If you have any questions, please contact Carrie Harkey, Diocesan Coordinator of Family Life at harkey@dioceseofvenice.org or 941-484-9543.