Our Lady of Fatima Rosary Rally a success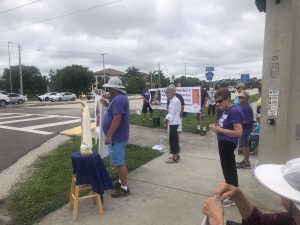 More than 30 people took part in the national "America Needs Fatima Rosary Rally" on June 4, 2022, in Fort Myers. The Rally was held at the corner of Daniels Parkway and Daniels Commerce Boulevard, and was focused on the Traditional Family and Public Prayers in honor of the Sacred Heart of Jesus and to end abortion, and. The threat of rain kept some away as the region was under a Tropical Storm Warning at the time. Rally organizer Toni Holmlund said the weather cooperated and most of the drivers passing by were supportive.
Sarasota school recognized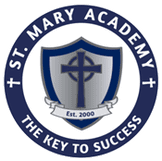 St. Mary Academy won the Family Living Magazine's Reader's Choice 2022 award for Best Special Education School in the area! Parents with special needs children often find that a typical classroom setting isn't ideal for their child. They may have tried the traditional classroom setting only to have their child struggle and fall behind academically. Now, imagine finding that perfect school, one that meets your child's particular needs. From the moment you visit the secure campus, you realize St. Mary Academy is a very unique environment. To learn more about St. Mary Academy, please visit www.stmarysarasota.org/.
Lourdes Virtual pilgrimage June 25
Holy Cross Parish, 505 26th St. W., Palmetto, is hosting a "Lourdes Virtual Pilgrimage Experience," at 9 a.m., June 25, 2022. Presented by the Our Lady of Lourdes Hospitality North American Volunteers, the presentation will be in English and Spanish. Present at the presentation will be a Grotto Rock and water from Lourdes, a Eucharistic blessing, and a Holy Rosary procession. Participants will have the opportunity to earn a plenary indulgence. There is no cost to attend. For more information, please call Holy Cross Parish at 941-729-3891.
Volunteers needed
The Society of St. Vincent de Paul in Naples is looking for thrift store volunteers. If you would like to offer your time as a cashier, sorter, receiver or customer assistance representative for SVdP Naples, call Samantha at 239-775-2907 ext. 1014 or email info@svdpnaples.org
Ordination to the Priesthood
Most Rev. Frank J. Dewane, Bishop of the Diocese of Venice, invites the faithful to the Ordination to the Priesthood of Transitional Deacons Christian Chami, David Portorreal, and Michael Young. The Ordination will take place at 11 a.m., on Saturday, July 16, 2022, at Epiphany Cathedral, 350 Tampa Ave. W., Venice. All are welcome and encouraged to attend this important event in the lives of the Deacons as well as the Diocese of Venice. A reception will follow in the Parish Hall.
Religious Freedom Week 2022
The U.S. Conference of Catholic Bishops is once again promoting the celebration of Religious Freedom Week beginning Wednesday, June 22 to Wednesday, June 29, 2022. Each year the week encompasses the period between the Memorial of Saints Thomas More & John Fisher, through the Solemnity of Saints Peter & Paul. The theme for this year is Life and Dignity for All. The Church plays a crucial role in both bearing witness to the gospel of life and serving all who will be affected by these discussions and their outcomes, especially in light of an upcoming Supreme Court decision in June. Learn how you can pray, reflect, and act to promote religious freedom at www.usccb.org/ReligiousFreedomWeek.
Catholic Summer Camp Program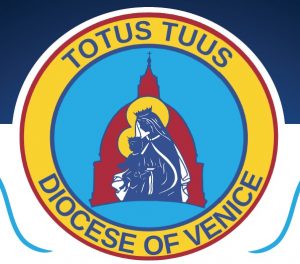 Totus Tuus (a Latin phrase meaning "totally yours") is a summer Catholic youth camp program dedicated to sharing the Gospel and promoting the Catholic faith through evangelization, catechesis, Christian witness and Eucharistic worship. The weeklong Parish summer catechetical camp program assists parents and parishes in evangelizing and catechizing youth by complementing the work they are already doing at the parish and at home. This summer the program will be offered at eight parishes in the Diocese of Venice. The camp program is for grades 1-5 Monday to Friday from 9 a.m. to 3 p.m. and for grades 6-12 Monday to Thursday from 7:30 p.m.to 9:45 p.m. Parishes hosting the program in the coming weeks are as follows:
St. Agnes Parish, 7775 Vanderbilt Beach Road, Naples, June 13-17.
Our Lady Queen of Heaven Parish, 355 S. Bridge Street, LaBelle, June 20-24.
St. Catherine Parish, 820 Hickory Street, Sebring, June 27-July 1.
St. John XXIII Parish, 13060 Palomino Lane, Fort Myers, July 11-15.
St. Joseph Parish, 3100 26th Street West, Bradenton, July 18-22.
St. Elizabeth Seton Parish, 5225 Golden Gate Parkway, Naples, July 25-29.
St. Patrick Parish, 7900 Bee Ridge Road, Sarasota, August 1-5.
Several parishes still have openings for this program. Please contact the Director of Religious Education at the Parish hosting the program or Anne Chrzan at chrzan@dioceseofvenice.org.
Vacation Bible School in Grove City
St. Francis of Assisi Parish, 5265 Placida Rd., Grove City, is hosting Vacation Bible School "God's Wonder Lab," from 9:00 a.m. to noon daily from Monday June 20 to Friday, June 24, 2022. Plunge in for VBS fun at God's Wonder Lab! Our God makes the impossible possible! Participants will delve into five Bible stories and discover that Jesus does the impossible for us. He does wonderful things for us because he loves us. Open to children first to sixth grade, 2022-2023. Register online at www.sfoachuch.com or contact Jim Brantner at 941-697-4899 Press 3.
Vacation Bible School in Venice
Epiphany Cathedral, 350 Tampa Ave. W., Venice, is hosting a Vacation Bible School "Monumental – Celebrating God's Greatness," from 9:00 a.m. to noon, daily Monday, June 27 to Friday, July 1, 2022. The week offers the opportunity to meet new friends, participate in amazing games, have surprising adventures and much more. Please register at www.epiphanycathedral.org or call 941-484-3505. Adult and teen volunteers needed.
Youth Conference
The 14th annual Ave Maria University Youth Conference – "Fearless" – is being held July 8 to10, 2022. Featured talks are by Father Rick Martignetti, Father Joseph Lugalambi, Father Rich Pagano and Chris Padget. The event includes the talks, Mass, Adoration, praise and worship, fellowship, and opportunities for confession. The cost is $175 and includes lodging, all meals, a t-shirt and more. To register, call 239-348-4725, aveconferences@gmail.com or www.aveconferences.com.
Adoption services available
Catholic Charities Adoption Services is a state-wide agency that provides counseling to birth parents, and provisions or resources to meet the needs of birth parents considering adoption planning. If you or a loved one would like to learn more, please call Joan Pierse at 941-355-4680.