Bishop leads prayer service to honor Our Lady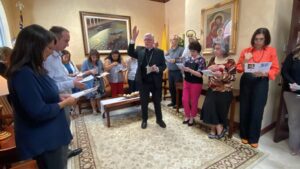 Bishop Frank J. Dewane led a prayer service for the staff of the Catholic Center in Venice on May 3, 2023, in honor of the Blessed Virgin Mary who we celebrate throughout the month of May.
Artist recognized during exhibition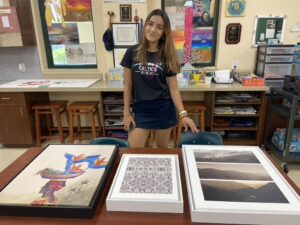 Valentina Montes, a graduating senior at St. John Neumann Catholic High School in Naples, has been invited by Artis Naples to display her art pieces at the 14th Annual Student Exhibition. The event runs from May 6 to July 23, 2023. Valentina will continue her art education in the fall at Florida Atlantic University.
Fun run held in Cape Coral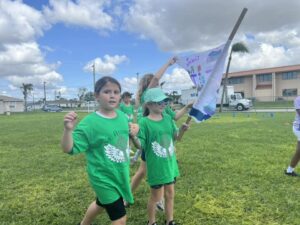 St. Andrew Catholic School students participated in the Boosterthon Fun Run in Cape Coral on May 5, 2023. Families and extended families helped the school reach and exceed its goal of $40,000. Students not only ran but participated in a number of fun activities as part of the celebration. Funds will be used to enhance school security and plan for future expansion.
Cinco de Mayo celebrated in Naples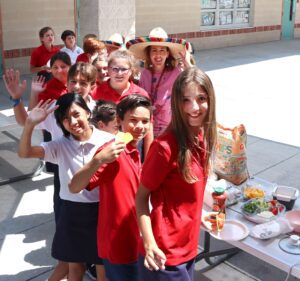 The Spanish classes at St. Ann Catholic School in Naples celebrated Cinco de Mayo (May 5, 2023) in style with traditional food and fun times honoring the Mexican culture.
Seniors have last day in school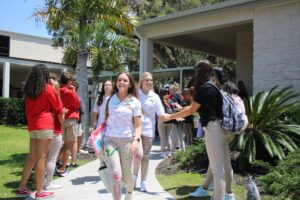 The graduating seniors at Cardinal Mooney Catholic High School had fun on their last formal day of class on May 4, 2023, in Sarasota. There were lots of hugs, smiles and a few tears as the students were cheered as they exited the school building at the end of the day by teachers and the freshman, sophomore and junior students.