Neumann baseball reaches Final Four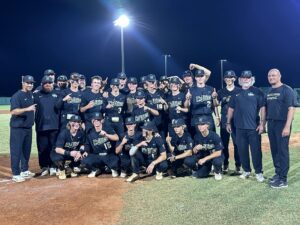 For the first time since 1985, the St. John Neumann Catholic High School baseball team has reached the State Final Four. The Naples boys went on the road and defeated Canterbury of Fort Myers on May 15, 2023, to win the Class 2A-Region 3 championship. The Celtics (23-8) will face either St. Johns Country Day or Lakeland Christian on May 18 at the Lee County Sports Complex in Fort Myers. If they win, the State Championship game will be May 20. The team is led by first year coach Charlie Mauer. Congratulations and good luck!
Sarasota beach volleyball team falls in Final Four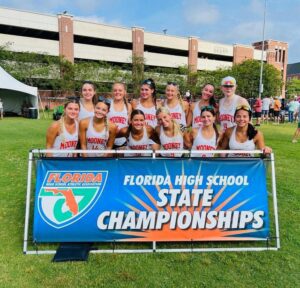 The Cardinal Mooney Catholic High School girls beach volleyball team fell in the state Final Four on May 13, 2023, at the Florida State University Beach Volleyball Courts in Tallahassee. The Sarasota team was the fifth seed going into the tournament and won twice, including the quarterfinals, before falling in the semifinals to eventual state champions, top seeded New Smyrna Beach. The Cougars finished the season 24-2. On April 22, the team were crowned the Sunshine State Class AA Beach Volleyball champs for the second straight year, after having competed at the Game Point Event Center in Orlando. Great season Cougars!
Living Rosary held in Naples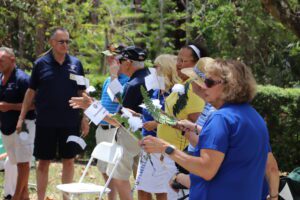 On the Feast of Our Lady of Fatima, May 13, 2023, faithful at St. Agnes Parish in Naples took part in a "Living Rosary," where people stand in to represent the beads on a rosary. The event was organized by Karen O'Shea and prayers were given for Peace in the World and the life of pre-born babies.
Youth help clean Our Mother's House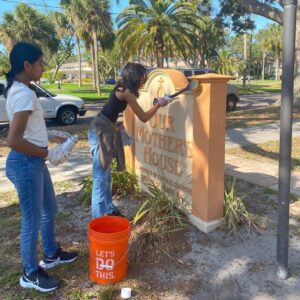 Youth from Epiphany Cathedral in Venice took time out on May 13, 2023, to do a service project at Our Mother's House, a Catholic Charities, Diocese of Venice, Inc., residence program for moms and their babies, who might otherwise be homeless. The teens cleaned up the various properties, did some planting and much more. Great job everyone.
Sarasota cheer team wins at Nationals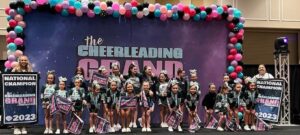 The two Incarnation Catholic School cheer teams from Sarasota took first place on May 20, 2023, at the East Coast Cheerleading Grand Nationals Championship in Orlando. The "Littles" and "Older" girls wowed the judges. The teams put in endless hours of practice and their dedication and teamwork paid off. Congratulations!
Fort Myers e-sports team wins title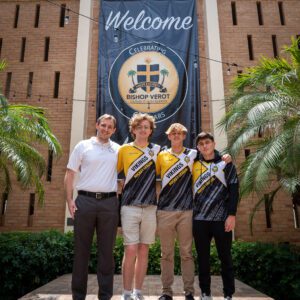 The Bishop Verot Catholic High School E-Sports Team won the Sunshine State Athletic Conference (SSAC) State E-Sports Rocket League Championship in Orlando on May 11, 2023. Rocket League is a high-energy, physics-based sports game that combines elements of soccer and demolition derby, requiring skillful maneuvering of vehicles to outscore opponents. The Fort Myers team competed against top-ranked schools from throughout Florida culminating in a dominant 4-0 victory over Master's Academy in Orlando.
Construction projects shared with young students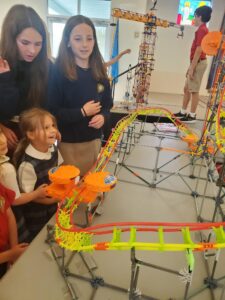 Prekindergarten students at St. Martha Catholic School in Sarasota got a special treat on May 12, 2023, when they were invited to learn about different construction projects made by sixth-grade students in the class of Sister Cathy Bonfield, SSND. The older students showed off their amazing K'Nex creations (a rod and connection building system that incorporates battery-powered moving parts to create large designs), which included rollercoasters, cranes and much more. The sixth-grade students also shared how the creations move and operate, and about the building process, while the prekindergartners listened in rapt attention.
Money raised for homeless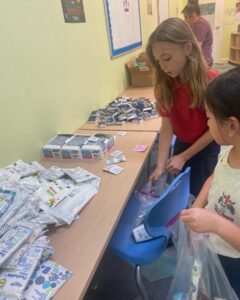 St. Catherine Catholic School students in Sebring recently finished a "Penny War" contest, raising more than $1,200 for supplies for homeless children and families of Highlands County. These items were delivered on May 16, 2023, to the Kiwanis Club which is partnering on the purchase of shoes. The various personal care items were then packed by students before delivery.
Food pantry thanks community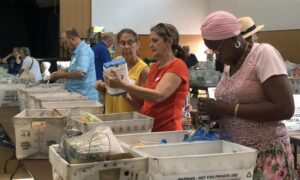 The St. Joseph Food Pantry in Bradenton was overwhelmed by the recent U.S. Letter Carriers Stamp Out Hunger Food Drive and dozens of volunteers helped sort the food on May 13, 2023. St. Joseph Food Pantry is the primary food pantry in Manatee County and the Postal Carrier donation is a big help as the pantry is gearing up to help feed children throughout the summer as they are away from regular school meals. If you would like to help, please visit https://stjoepantry.com/. Donors can also bring food such as canned corn, canned green beans, 1lb box spaghetti, spaghetti sauce, boxed macaroni and cheese, cheese, cereal, as well as peanut butter and jelly to St. Joseph Food Pantry, 2704 33rd Ave W., Bradenton, FL 34205. The food pantry is open 9 a.m. to noon, Monday through Friday. Volunteers are always welcome. For more information, call 941-756-3732 or email directors@stjoepantry.com.
Students learn about history visit Diocesan Eucharistic Memorial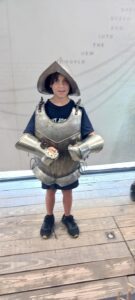 Fifth grade students from St. Joseph Catholic School enjoyed a May 12, 2023, visit to the DeSoto National Memorial in Bradenton, where they learned about Florida history as well as Diocesan history. The students learned that Hernando DeSoto led an expedition of 10 ships and 620 men, including 12 priests, which landed near present-day Bradenton on May 25, 1539 (68 years before the founding of Jamestown). A Eucharist Memorial and Cross were built and dedicated by the Diocese of Venice in this location to commemorate this historical event.
Students learn about saints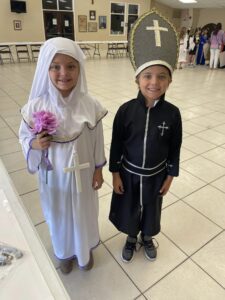 Third-grade students at St. Francis Xavier Catholic School in Fort Myers took part in a special project called the Saints Wax Museum. This project included learning about the saints, doing research and making a presentation about their life, what acts led them to being named a saint, and much more. The culmination of the project was on May 11, 2023. The students dressed as their saint and stood behind a table, which had a display with the biographical information about the saint, and they had to be prepared to talk about the saint as students from other grades (and later parents) came by to ask them questions. This was a fun and immersive way for all of the students to learn about saints.
Day of Reflection for Sacramental Marriage
The Office of Marriage and Family Life will be hosting a Day of Reflection for couples preparing for the Sacrament of Marriage in the Catholic Church on two separate dates. A specially prepared team will share their experiences and information enabling couples to be more aware of the privileges and responsibilities of marriage.  The first event will be held from 9:30 a.m. to 3 p.m., June 17 at St. Katharine Drexel Parish, 1922 SW 20th Avenue, Cape Coral. The cost of $50/couple covers all retreat materials and lunch. Pre-registration is required at Marriage Preparation Seminar 2023 (regfox.com). Should you have questions or require additional information contact Carrie Harkey at harkey@dioceseofvenice.org or 941-484-9543 ext. 4748.