Volunteers sort food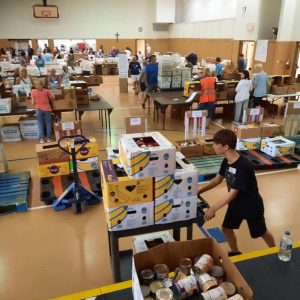 More than 150 volunteers came to the St. Joseph Food Pantry in Bradenton to help sort and store 50,000 pounds of food on May 14, 2022. The food was collected during the U.S. Postal Service Stamp Out Hunger Food Drive.
CCW council re-established in Sebring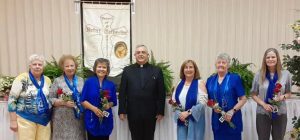 The St. Catherine Council of Catholic Women was re-established during a ceremony in Sebring on May 7, 2022. The installation ceremony included representatives from the Venice Diocesan Council of Catholic Women who aided in this process. The Council acts within the Parish to support, empower and educate Catholic women in spirituality, leadership and service. The installation was presided over by Father Jose Gonzalez, Pastor of St. Catherine.
Diocesan seminarian Valedictorian
Transitional Deacon David Portorreal, a Diocese of Venice Seminarian, graduated on May 12, 2022, from St. Vincent de Paul Regional Seminary in Boynton Beach. The commencement address was by Most Rev. Felipe J. Estévez, Bishop of the Diocese of St. Augustine. Deacon Portorreal was the Valedictorian of his graduating class and will be ordained to the priesthood by Bishop Frank J. Dewane on July 16, 2022, at Epiphany Cathedral in Venice.
SVdP International president visits Parish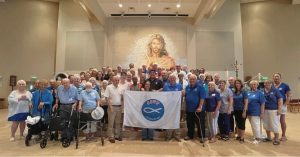 The Society of St. Vincent de Paul International President General Renato Lima de Oliveira visited members of the Sacred Heart Conference on May 5, 2022, in Punta Gorda. He congratulated the conference for their spirituality, friendship and their Vincentian Spirit. He was amazed at the size and ability of the conference to help the community in so many ways.
Ordination to the Permanent Diaconate June 18
All are invited and encouraged to attend the Ordination to the Permanent Diaconate for the following candidate: Craig Dutka of Holy Cross Parish in Palmetto. The Ordination will be held at 10:30 a.m., Saturday, June 18, 2022, at Holy Cross Parish, 506 26th St. W., Palmetto. A reception in the Parish Hall will follow.
Our Lady of Fatima Rosary Rally
Please join our national America Needs Fatima Rosary Rally for the Traditional Family and Public Prayers in honor of the Sacred Heart of Jesus and to end abortion Saturday, June 4, from noon to 1:00 p.m., at the corner of Daniels Parkway and Daniels Commerce Blvd near Tile Outlet of America and TIAA Bank in Fort Myers. Parking is in an empty lot at Daniels Commerce Blvd and Commerce Park Blvd or John Yarbrough Linear Park off Daniels at Metro Parkways. Please arrive 10 minutes early and bring your Pro-Life signs, chairs, water and umbrellas. For more information, please contact Toni at toni@defendingtheunborn.com.
Charismatic Pentecost Celebration
The Diocese of Venice English Charismatic Renewal invites all to join them for a celebration on Pentecost Sunday at 3:00 p.m., June 5 at Sacred Heart Catholic Church, 211 West Charlotte Avenue, Punta Gorda. The afternoon will include praise and worship followed by the Holy Sacrifice of the Mass at 4:00 p.m. Please bring your Prayer Group Banner and Stand as there will be a Banner Procession. For further information, please contact Alice Keough at keough@epiphanycathedral.org or 941-484-3505 ext. 1104.
Youth Conference in July
The 14th annual Ave Maria University Youth Conference – "Fearless" is July 8-10, 2022. Featured talks are by Father Rick Martignetti, Father Joseph Lugalambi, Father Rich Pagano and Chris Padget. The event includes the talks, Mass, Adoration, praise and worship, fellowship, opportunities for confession and much more. The cost is $175 and includes lodging, all meals t-shirt and more. To register, call 239-348-4725, aveconferences@gmail.com or www.aveconferences.com.