An act of kindness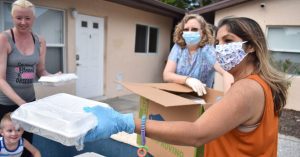 Representatives from Children First Inc., a childcare provider, recently visited Our Mother's House, a program of Catholic Charities, Diocese of Venice Inc., with a chicken dinner for each mother from Paradise Grill. The mothers were so grateful for their generosity! Our Mother's House in Venice provides housing and support for mothers and their children who would otherwise be homeless.
Catholic Charities Responds to Pandemic
If you need help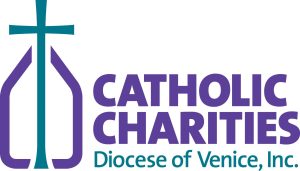 If you need assistance from Catholic Charities for food, financial assistance or tele-mental health counseling, please call the number for your area listed below 9 a.m.-5 p.m., Monday-Friday:
Sarasota/Manatee/DeSoto/Hardee/Highlands counties: 844-385-2407,
Charlotte/Lee/Hendry/Glades counties: 844-385-2423,
Collier County: 844-385-2404.
Food distribution
Catholic Charities food distribution will take place only at the following times and locations. Please call the regional number for more information.
Mondays and Wednesdays, 9-11 a.m., Guadalupe Social Services, 211 S. 9th St., Immokalee;
Tuesdays, 9-11:30 a.m., Judy Sullivan Family Resource Center, 3174 Tamiami Trail E., Naples;
Thursdays, 9 a.m.-noon, St. Margaret Parish, 208 Dean Duff St., Clewiston;
Fridays, 9-11 a.m., St. Leo the Great Parish, 28360 Beaumont Road, Bonita Springs;
Fridays, 9 a.m.-noon, Elizabeth K. Galeana Pantry, 4235 Michigan Avenue Link, Fort Myers;
2nd and 4th Fridays of the month, 10 a.m.-1 p.m., St. Paul Parish, 1208 E. Oak St. Arcadia;
Saturdays, 7–8:45 a.m., St. Michael Parish, 408 Heard Bridge Road, Wauchula.
How to Help
Catholic Charities Diocese of Venice Inc. is in urgent need of your financial support during its response to the COVID-19 pandemic. To help, please visit www.catholiccharitiesdov.org/donate or send a check to: Catholic Charities, Diocese of Venice Inc., 5824 Bee Ridge Road, PMB 409, Sarasota, FL 34233-5065.
Online Prayer Resources and Live Mass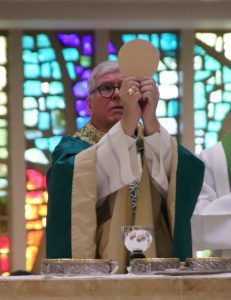 A special coronavirus webpage is located on the Diocese of Venice website homepage at www.dioceseofvenice.org.
Resources include links to the Mass, the prayer for Act of the Spiritual Communion, videos of the Stations of the Cross, Divine Mercy Chaplet and Pray the Rosary by following the links for the Diocese response to Coronavirus included on the Diocese homepage. The U.S. Conference of Catholic Bishops website, www.usccb.org, also posts the daily Mass readings.
While the celebration of public Mass has resumed (effective May 18, 2020), Bishop Frank J. Dewane announced that for those who are at greater risk or anxious about returning at this time, that the dispensation from the obligation to attend Sunday Mass remains in effect until June 28, 2020. The Faithful ought not to worry about remaining home if they are concerned for their wellbeing or that of other parishioners. Of course, those who are sick or have symptoms associated with COVID-19 are to stay home.
While Parishes have been asked to continue live streaming until the dispensation is lifted, the Diocese of Venice Mass live stream will continue from the Catholic Center in Venice 9:15 a.m. daily through June 28, 2020, and is available through the Diocese website and Facebook pages.
In addition, the Televised Mass for the Homebound is available throughout the Diocese each Sunday. In northern parts of the Diocese (Manatee, Highlands, Hardee, Sarasota, DeSoto and Charlotte counties) the Mass airs on television at 9:30 a.m. on the CW Network. In the southern portions of the Diocese (Collier, Lee, Glades, Hendry, Charlotte counties) the Mass airs at 10:30 a.m., on WFTX-TV (FOX-4). This same Mass can be found on the Diocese of Venice website at any time during the week, www.dioceseofvenice.org/tvmass. Please check local listings for channel information.
Parish donations
During this challenging time in the life and mission of the Diocese of Venice, our Parishes face increased risk of financial shortfalls due to the coronavirus (COVID-19) pandemic and its effects on everyday life. Parishes depend on weekly financial gifts to continue their ministries, especially in this critical time of crisis.
The Diocese of Venice is providing an online platform and encourages the Faithful to support their Parish. Please visit https://dioceseofvenice.org/ways-to-give/parish-donations-online/ to donate to your Parish.
The Faithful may also contribute through their usual channels (e.g., envelopes, and through the Parish online giving option). Together we will navigate through this crisis, provide assistance to those in need, and secure the road ahead for the Parishes within the Diocese of Venice.
Please continue to pray for the repose of those who have died, for the recovery of those who are sick, for the strength of healthcare workers and caregivers, as well as for an end to this health crisis. Thank you for your generosity.
Act of Spiritual Communion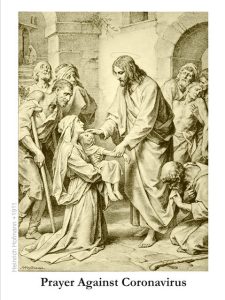 It has long been a Catholic understanding that when circumstances prevent one from receiving Holy Communion, it is possible to make an Act of Spiritual Communion which is a source of grace. Spiritual Communion means uniting one's self in prayer with Christ's sacrifice and worshiping Him in His Body and Blood.
The most common reason for making an Act of Spiritual Communion is when a person cannot attend Mass, as is the case during the ongoing coronavirus pandemic. Acts of Spiritual Communion increase our desire to receive sacramental Communion and help us avoid the sins that would make us unable to receive Holy Communion worthily.
For all who will not be able to receive the Holy Eucharist in person, consider this special prayer, an Act of Spiritual Communion:
My Jesus,
I believe that You
are present in the Most Holy Sacrament.
I love You above all things, and I desire to receive You into my soul.
Since I cannot at this moment receive You sacramentally,
come at least spiritually into my heart.
I embrace You as if You were already there and unite myself wholly to You.
Never permit me to be separated from You.
Amen.
Year of St. Joseph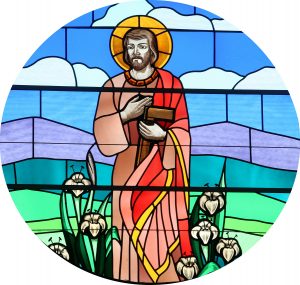 On the Solemnity of St. Joseph, March 19, 2020, Bishop Frank J. Dewane consecrated the Diocese of Venice to the care and protection of St. Joseph in the context of the coronavirus. The Bishop announced a "Year of St. Joseph" beginning March 19, 2020 through March 19, 2021. St. Joseph, often referred to as the Protector, can be our protector during this time of the pandemic. To pray a Novena to St. Joseph please visit the Year of St. Joseph webpage at www.dioceseofvenice.org.
Online Preached Retreats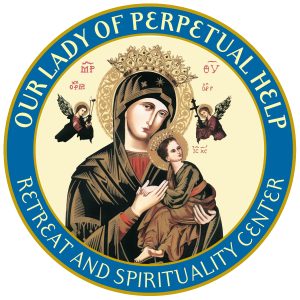 During the current health crisis, Our Lady of Perpetual Help Retreat Center in Venice is offering online 3-day, 5-day, and 8-day retreats based on the Spiritual Exercises of St. Ignatius. In these online retreats, Father Mark Yavarone, OMV, or Father Lino Estradilla, OMV, trained spiritual directors, will meet with you for an hour each day via a link provided to you, to help you to pray and to recognize how God is speaking to you. A Bible and journal should be available for your use. Participants will be emailed any additional materials needed as the retreat unfolds. The cost is as follows: 3-day online retreat, $132.23; 5-day online retreat, $203.98; and 8-day online retreat, $306.48. All information will be confidential, and password protected. If you would like to participate in an online retreat, please email Denise Riley at riley@olph-retreat.org and a code will be provided for your online registration as well as an application. For planning purposes, please allow 7 days from your completed application until the beginning of your retreat.