Mass to Open Diocesan Phase of Synod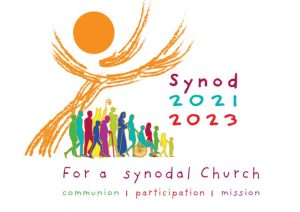 As a part of the XVI Ordinary General Assembly of the Synod of Bishops, "For a Synodal Church: Communion, Participation, and Mission," Pope Francis has invited every Diocese in the world to inaugurate the beginning of the Synod with an opening Mass. In the Diocese of Venice, this opening Mass will be celebrated by Bishop Frank J. Dewane at 2:30 p.m., Oct. 17, 2021, at Epiphany Cathedral, 350 Tampa Ave., Venice. All are welcome and encouraged to attend this Mass. In this Diocesan Phase of the Synod, Catholics in the Diocese of Venice are encouraged to participate in listening sessions, which will be announced in the coming weeks.
Bishop meets Pope Francis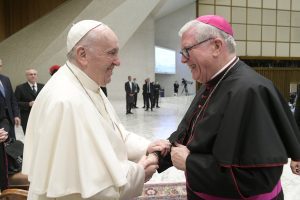 Bishop Frank J. Dewane had the opportunity to greet and meet with Pope Francis following the General Audience in the Vatican's Pope Paul VI Hall on Sept. 29, 2021. Bishop Dewane spoke briefly with the Holy Father who in return asked about what is taking place in the Diocese of Venice. The Bishop was in Rome to witness the Ordination to the Transitional Diaconate of Diocesan Seminarian Christian Chami on Sept. 30, 2021.
Ministry of Acolyte conferred on Seminarian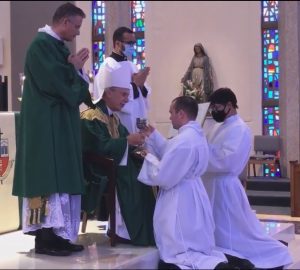 Diocese of Venice Seminarian Jacob Gwynn was conferred to the Ministry of Acolyte on Sept. 26, 2021 at St. Vincent de Paul Regional Seminary in Boynton Beach. The principal celebrant for the Mass was Bishop Luis R. Zarama of the Diocese of Raleigh. As an Acolyte, Gwynn is now charged with assisting at the celebration of the Eucharist, purifying the sacred vessels and, when needed, to assist with the distribution of Holy Communion. As part of the Rite, the Bishop placed the paten, which contains the hosts for the celebration of Mass, in the hands of the candidate. He then said, "…take this vessel with bread for the celebration of the Eucharist. Make your life worthy of your service at the table of the Lord and of his Church."
Blessing of the Animals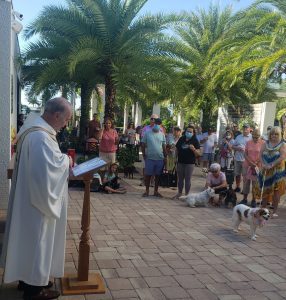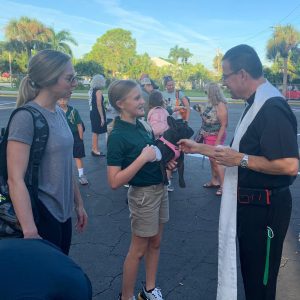 Many Diocesan Parishes and Schools hosted a Blessing of the Animals to celebrate the Feast of St. Francis of Assisi on Oct. 4, 2021. While many Parishes hosted the blessings during the preceding weekend, schools opted to either have the blessing before school or prior to the end of the day. The variety of animals was immense, from horses to hamsters, parrots to rabbits as well as nearly every assortment of dog and cat imaginable. It was evident that these creatures were well loved and an important part of each family.
Rosary making educates children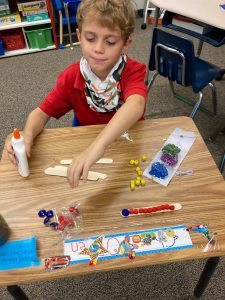 Kindergarten and first graders at St. Mary Catholic Academy in Sarasota used part of religion class on Sept. 29, 2021 to make rosaries. It was at that time the students learned how October is the month of the Holy Rosary and both October and May are months in which we give special honor to Mary, the mother of Jesus.