Bishop participates in national Catholic Charities gathering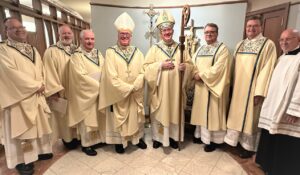 Bishop Frank J. Dewane, Episcopal Liaison to Catholic Charites USA, was among 550 delegates from around the country to take part in the 2023 CCUSA annual gathering Oct. 3-5, 2023, in Cleveland, Ohio. The conference included learning labs, meetings, breakout session vendor exhibits and site visits to some Catholic Charities ministries. Bishop Dewane was among those concelebrating Mass on Oct. 4 in the Cathedral of St. John the Evangelist.
Parish has multicultural celebration for Feast Day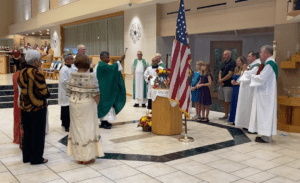 The faithful of St. John XXIII Parish in Fort Myers participated in a multicultural celebration on Oct. 7, 2023, as part of a Feast Day commemoration. The celebration began with the Holy Sacrifice of the Mass in honor of St. John XXIII's Feast Day (Oct. 11). Vietnamese dancers performed before the opening of the Mass. Parish Administrator Father Jayabalan Raju blessed a multicultural display on a pedestal to the left of the altar. Flanked by the Vatican and U.S. flags, the display included flowers brought forward by representatives of the Vietnamese, Hispanic, Filipino and Anglo communities, as well as smaller flags representing many nations.  The celebration continued in the Parish Hall with food from many different cultures.
Students take part in leadership retreat
A group of select students from St. John Neumann Catholic High School in Naples recently participated in a transformative Salesian Leadership Retreat the weekend of Oct. 6-8, 2023, in New York City. During this enriching experience, the students had the opportunity to cultivate their leadership skills, deepen their spirituality, and forge lasting bonds with their peers. Through various workshops, activities, and reflections, they explored the values of St. John Bosco and St. Mary Mazzarello, learning how to become compassionate and effective leaders in our community.
Equestrian Club trots for fun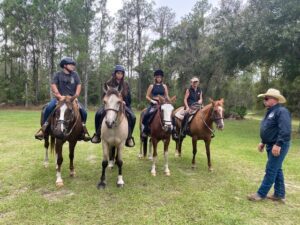 The Cardinal Mooney Catholic High School Equestrian Club is going strong as it is in its second year. This is a group for horse lovers to learn more about the equestrian sport in a safe and Christian environment. This year the club has partnered with Wolfe's Born to Ride, a Christian stable in Parrish. On Oct. 7, 2023, two groups of students took part in two-hour rides through Little Myakka State Park. The Wolfes met the students at the park with 10 gentle horses. The group got to walk, trot, canter, go through water, ditches and through and over obstacles. They are planning to do rides like this monthly and even hope to do a moonlight trail ride with parents.
"Red Mass" for legal profession in Sarasota Oct. 18
The Red Mass, a medieval tradition of the Roman Catholic Church, has been observed annually in the Diocese of Venice since 2008.  This year, the Red Mass will be celebrated at 5:30 p.m., October 18 at St. Martha Catholic Church 200 N. Orange Street, Sarasota. The Most Rev. Frank J. Dewane, Bishop of the Diocese of Venice, will be the Main Celebrant. A reception hosted by the Catholic Lawyers Guild (CLG) follows immediately at the Parish Hall. For further information, please contact Atty. Paul Consbruck at 866-558-7285; 941-966-6706 or adoptfla@yahoo.com.
Faith & Ale at Resurrection Parish in Fort Myers
Faith & Ale Fort Myers Catholic men's group is returning on Thursday, October 19 at Resurrection Parish, 8121 Cypress Lake Drive, Fort Myers. The speakers will be Deacon Jeff Ball of Ave Maria Parish in Ave Maria, Deacon John Gaulin of St. John XXIII, and Deacon Bob Gaitens who is the Diocesan Director of Diaconate Formation. They will be participating in a panel discussing what is a Deacon, how each became a Deacon and what each does in fulfilling the role of Deacon at their assigned church. The program begins at 6:00 p.m. with pizza and refreshments for a $10 donation and concludes at 8:00 p.m. Reservations are required at www.faithandale.com .
Vocations Weekend
If you are a young man (high school age or above) and sense that the Lord is calling you to the priesthood, St. John Vianney College Seminary is hosting a free Vocations Weekend. The event begins with pizza and night prayer on Friday evening, Oct. 27, 2023, and ends with Holy Mass and brunch on Sunday, Oct. 29. Join with other discerners from around the state of Florida to experience a glimpse of seminary life, meet the young men who are already studying for the priesthood as seminarians, and join with them in prayer and fraternity during this profound weekend retreat. (The typical schedule for the weekend includes adoration, spiritual talks, daily Mass, personal testimonies from seminarians, meet and greet with the professors, a campus tour, games and sports.) For more information and to RSVP, please visit venicevocations.org or email Father Shawn Roser, the Director of Vocations at the Diocese of Venice at roser@dioceseofvenice.org or call 941-486-4720.
40 Days for Life continues
The 40 Days for Life fall campaign is ongoing and runs through Nov. 5, 2023, seeking a peaceful end to abortion in the U.S. and around the world through the power of prayer. It is the presence of more than one million prayer warriors in 681 cities worldwide – including Fort Myers, Naples, and Sarasota – that will make a difference in this important battle to save the unborn. The prayer vigil in Fort Myers is from 9 a.m. to 5 p.m. (Mon. – Sat.), at 6418 Commerce Park Drive. In Sarasota, the vigil is daily, from 7 a.m. to 7 p.m. (7 days a week), at 736 Central Ave. The Naples prayer vigil is from 7 a.m. to 7 p.m. (Mon. – Sat.), at 1425 Creech Road. For more information, please visit https://www.40daysforlife.com/en/, or contact Diocesan Respect Life Director Jeanne Berdeaux at Berdeaux@dioceseofvenice.org or 941-374-1068.
Pro-Life luncheon in November
The Jon Sharfenberger Pro-Life Scholarship Luncheon, an event to support pro-life initiatives on the campus of Ave Maria University, will be held at the University on Nov. 4, 2023. After the passing of former AMU student Jon Sharfenberger in October 2011, the Jon Sharfenberger Memorial Scholarship was established at the University to encourage students to become Catholic leaders in an increasingly secular society.  The event will start at 11:30 a.m. with a Mass said by Most Rev. Edward Sharfenberger (Jon's uncle), of the Diocese of Albany, and it will be followed by a lunch at 12:30 p.m. in the Bob Thomas Student Union Ballroom at AMU. The keynote speaker is Seth Gruber, founder and president of The White Rose Resistance and host of the popular podcast "UnAborted." A nationally renowned human rights activist and sought-after speaker, Gruber is fighting for a world where every person has the right to be born. For registration information, please visit Ave Maria University.