Appointments
After consultation, Bishop Frank J. Dewane announces the following:
Father Leszek Trojanowski, as Parochial Vicar of Holy Cross Parish, Palmetto, effective September 23, 2022, and thus, is relieved of his duties as Parochial Vicar of San Pedro Parish, North Port.
Father Christian Chami, returning to Rome to complete his Licentiate Studies at the Pontifical Atheneum of St. Anselm, effective September 23, 2022, and thus, is relieved of his duties as Parochial Vicar of Holy Cross Parish in Palmetto.
Bishop Dewane also announces the new members to the Presbyteral Council, as a result of the most recent elections and appointments, are the following:
Father John Fitch, Representative of the Central Deanery
Father Eric Scanlan, Representative of the Northern Deanery
Father Hugh McGuigan, O.S.F.S., Religious Representative
Father Shawn Roser, Member-at-Large
Father Lawton Lang, Member-at-Large
Father Thomas Carzon, O.M.V., Appointed Representative
Father John Nghia Hoang, Appointed Representative
Congratulations to the new members. At the same time, an expression of gratitude is extended to those who served on the Presbyteral Council in their respective categories:
Father Jarek Sniosek
Father Joseph Gates
Father George Ratzmann
Father Jayabalan Raju
Bishop celebrates Mass for students in Fort Myers, Cape Coral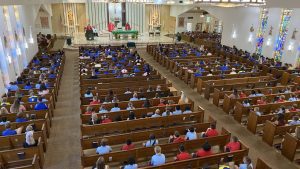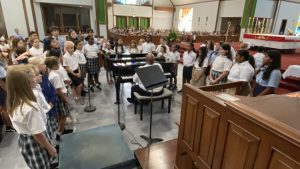 "Find Christ in others" was the challenge put forth by Bishop Frank J. Dewane on the students at St. Francis Xavier Catholic School in Fort Myers and St. Andrew Catholic School in Cape Coral on Sept. 22, 2022. Bishop Dewane celebrated Mass at both schools as part of an ongoing effort to visit each school in the first two months of school. Afterwards, the Bishop took time to speak to the eighth graders, answer their questions and encourage them to attend nearby Bishop Verot Catholic High School.
Scouts participate in 10 Commandment Hike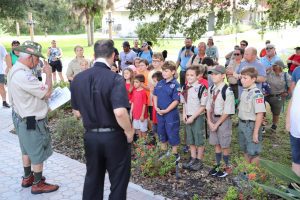 More than 70 Scouts from across the Diocese of Venice took part in the annual 10 Commandment Hike on Sept. 24, 2022, at Our Lady of Perpetual Help Retreat Center in Venice. The Scouts walked the grounds, go from station to station where they were taught the lessons of the 10 Commandments, not just what they are, but also how not to violate them. Diocesan Scout Religious Award Coordinator Bob Paquette said he hoped the Scouts would gain valuable lessons that they can apply to their everyday life. A special patch was presented to each Scout after they were blessed by Diocesan Scout Chaplain Father Lawton Lang of St. Thomas More Parish in Sarasota.
New Stations blessed in Cape Coral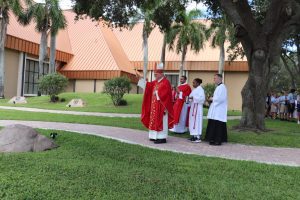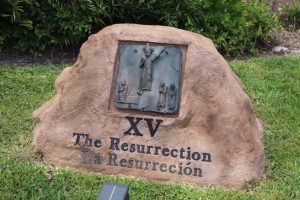 Bishop Frank J. Dewane blessed newly installed Stations of the Cross at St. Andrew Parish in Cape Coral on Sept. 22, 2022. The blessing took place after a Mass for students at St. Andrew Catholic School and included the eighth-graders, parents and parishioners. The Stations were repurposed from the original outside Stations which were around the perimeter of the Parish property. The former Stations were imbedded into stone and placed in the newly landscaped prayer garden on the southeast side of the church. The garden includes benches surrounding a statue of the Blessed Virgin Mary and a lighted path leading to each Station.
20 Parishes hosting Diocesan Rosary Congress Oct. 1-7
On Oct. 7 each year we celebrate the Feast of Our Lady of the Holy Rosary in honor of the Blessed Mother. This year 20 Parishes in the Diocese of Venice will be participating in a Rosary Congress from Oct. 1, to Oct. 7, 2022 (All schedules subject to change due to Hurricane Ian). During the Rosary Congress, the host Parishes (at least two in each Deanery) will provide the hourly praying of the Holy Rosary as well as Eucharistic Adoration. Many of the Parishes taking part will also have the celebration of the Mass at the opening and closing of a 24-hour period of Adoration. Several Parishes will make the Sacrament of Reconciliation available during specific times of the Rosary Congress. To find the complete listing of host Parish and their contact information, please visit https://dioceseofvenice.org/diocesan-rosary-congress-oct-1-to-7.
Marriage retreat held in Arcadia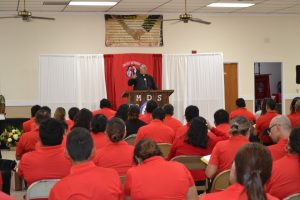 A Spanish-language marriage retreat took place Sept. 25, 2022, at St. Paul Parish in Arcadia. There were 60 couples who heard from speakers about the importance of having Christ accompany the couples as they live out their Sacramental Marriage, joined in union with God. Father Luis Pacheco, Administrator at St. Paul, said the retreat was a blessed time for all of the couples.