Verot artists shine in chalk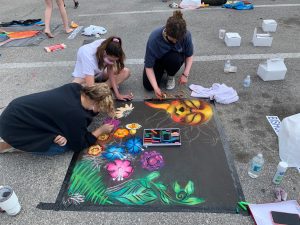 The Bishop Verot Catholic High School Art Club members participated in the Chalk Block contest on Feb. 5-6, 2021 on the waterfront in Fort Myers. More than 40 Lee County high school teams participated in the Chalk Block event which was sponsored by Lee Health and Golisano Children's Hospital of Southwest Florida.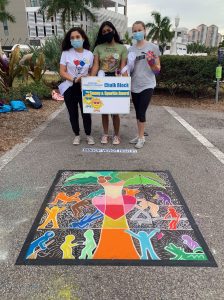 Verot seniors Angela Hopkinson, Letitia Tiranayake-Siriwardena, and Rachelle Hartig won the Golisano Children's Hospital "Sunny and Sparkle" award in addition to taking third place overall. Ainsleigh Ellis, Sophie Purdue, and MacKenzie Housler won a judge's award for their sun garden. The theme this year was CommUNITY. The girls are currently considering making their chalk block design into a t-shirt that will raise money for art therapy programs at the Children's Hospital.
Sarasota Charity Ball a success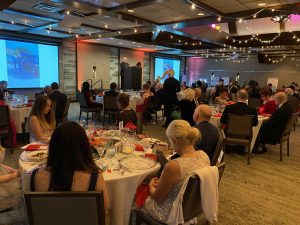 The 2021 Sarasota Charity Ball was a huge success on Feb. 13 at the Marie Selby Botanical Gardens in downtown Sarasota. The proceeds from the event will benefit the programs of Catholic Charities Diocese of Venice in Sarasota and Manatee counties including the St. Martha Early Learning Center, Bethesda House, Our Mother's House, North Port Family Haven and more, all which help to serve the needy in the area.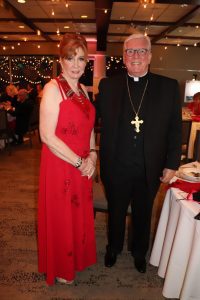 The elegant evening included a live auction and dinner catered by Michael's on East and was chaired by Bridget Speiss.
Mooney student medals in State Weightlifting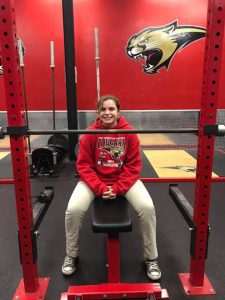 Congratulations to Cardinal Mooney Catholic High School student McKayla Cantrell who medaled and finished 4th in the 2021 Class 1A Girls Weightlifting State Championship on Feb. 12, 2021 at Suwanee High School in Live Oak. Her combined lift was 305 pounds (165 pounds in the bench press and 140 in the clean and jerk). McKayla is Mooney's first state medalist in this event.
Parish adds spiritual touch to food distribution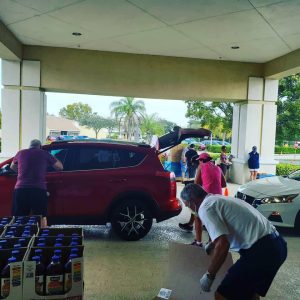 St. Elizabeth Seton Parish in Naples are now partnering with St. Matthew's House for a weekly food distribution. This outreach began in January and more than 400 families are coming by for food each week. In addition to giving food, the Parish Prayer Team provides something different to help the recipients connect to the Lord. For example, the team recently provided rosaries along with information in the Divine Mercy Devotion. As the team prays with their guests, they also learn if there are any other needs, such as rent or utilities, which are then addressed by the Parish St. Vincent DePaul Society.
Migrant Care Grants deadline Feb. 28
Grant requests for funding of 2021 projects from the Foundation for the Care of the Migrant Poor are available and need to be submitted no later than Feb. 28, 2021. To be considered by the Board of Directors for a Grant, the project must clearly be seen as a service to the migrant poor or new immigrants. Preference will be given to those projects under Catholic auspices. Applications can be submitted by going to the Foundation page on the Diocese website at https://dioceseofvenice.org/offices/organizations/foundation-for-the-care-of-the-migrant-poor/.
Volunteers needed
The St. Vincent de Paul Society thrift stores in Bonita Springs and Naples are in need of more volunteers. If you feel you can help, please contact Samantha Maturo, Program/Volunteer Coordinator, at smaturo@svdpnaples.org or 239-775-2907 ext. 1014.
Safe Haven Sunday
Pornography is one of the leading causes of addictions, abuse, adultery, divorce, and even human trafficking: it is, in short, a pervasive evil inflicting grave wounds on our families. Pornography creates unsafe environments for children and confuses others about attitudes towards sex and marriage. It is a moral issue. For this reason, March 7 has been designated as Safe Haven Sunday in the Diocese of Venice. This day for awareness will give an opportunity to address the harmfulness of pornography in marriages, families, and culture, while providing helpful resources for all. Detailed information about the implementation of this program will be shared in the coming weeks through your Parishes. If you have any questions, please contact Carrie Harkey, Diocesan Coordinator of Family Life at harkey@dioceseofvenice.org or 941-484-9543.
Women's Conference March 13
Registration is now open for the 2021 Women's Conference on March 13, which will feature speakers Kimberly Hahn and Mary Ann Weisinger-Puig. The Conference will be held at Bishop Verot Catholic High School, 5598 Sunrise Drive, Fort Myers. The Conference is 9 a.m. to 3 p.m. (doors open at 8 a.m.) with Mass celebrated by Bishop Frank J. Dewane. Confession will be available all day. For more information or to register, please visit www.dioceseofvenice.org/adultconferences.
40 Days for Life now until Palm Sunday
Join other Christians from now through March 28, for the Spring 40 Days for Life campaign. This Campaign encompasses 40 days of prayer and fasting for an end to abortion. Stand and peacefully pray during vigils in the public right-of-way outside Planned Parenthood in Fort Myers or Sarasota. For more information, go to www.40daysforlife.com and click on the location nearest you.