St. Jude Food Pantry open
The St. Jude  Parish Food Pantry is open and distributing food on Wednesdays from 5-6 p.m. and on Saturdays from 8:30-9:30 a.m. following all social distancing protocols. Please bring an ID and do not exit your vehicle. Volunteers will load cars.  Located at 3930 17th St., Sarasota, please call the food pantry at 941-955-3934 if you have any questions or visit https://www.stjudesarasota.com/info/st-jude-food-pantry-schedule, for updates.
Parish supports local charity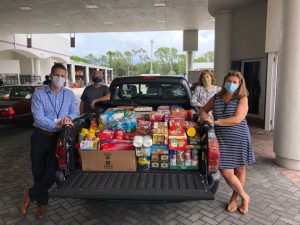 St. Agnes Parish in Naples has stepped up again to help the needy in the area. This time the Parish collected four pick-up truckloads of food and donated it to St. Matthew's House, a program that provides innovative solutions to fight homelessness, hunger, substance abuse, and poverty in Collier County.
Food pantry open in Wauchula
St. Michael Parish in Wauchula is the home to a food pantry which has been at the forefront of the COVID-19 Pandemic response. To accommodate those who work, the food pantry is open each Saturday, 7–8:45 a.m., at the Parish 408 Heard Bridge Road, Wauchula. If you need food at a different time or would like to support the efforts to assist the community, please call the Parish at 863-773-4089.
Foundation life-planning seminars to resume June 24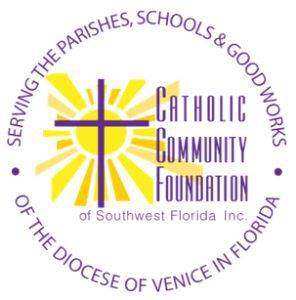 Due to the coronavirus, many Parishes in the Diocese of Venice had to postpone the Life Planning Seminars that were originally scheduled for this past spring.  In response to numerous requests, the Catholic Community Foundation of Southwest Florida Inc. has scheduled three virtual seminars featuring a local Catholic estate attorney, a local Catholic Financial Advisor and Michael Morse, Executive Director of the Foundation. These free seminars are open to anyone wishing to attend, no matter where they are currently located, whether here in Florida or back up north. All attendees will need to register ahead of time in order to join the meeting. The following registration links are unique to each seminar at https://ccfdioceseofvenice.org/home/upcoming-events/. For more information, please contact Michael Morse at 941-441-1124 or by email at Morse@dioceseofvenice.org.
Bradenton food pantry available
The St. Joseph Parish Food Pantry, 2704 33rd Ave. W., Bradenton, is open and distributing food from 9a.m. to noon Monday-Friday, and 5-7 p.m. Wednesdays, following all social distancing protocols. New clients are welcome to register during regular pantry hours. Call 941-756-3732 if you have any questions or wish to make a donation of money or food. For more information on the St. Joseph Food Pantry go to https://www.stjoepantry.com/
Dispensation
While the celebration of public Mass resumed May 18, 2020, Bishop Frank J. Dewane announced that the dispensation from the obligation to attend Sunday Mass remains in effect until June 28, 2020 for those who are at greater risk or anxious about returning at this time. The Faithful ought not to worry about remaining home if they are concerned for their wellbeing or that of other parishioners. Of course, those who are sick or have symptoms associated with COVID-19 are to stay home.
Livestreaming
The Diocese of Venice Mass will continue livestream through the Diocese website and Facebook pages from the Catholic Center in Venice 9:15 a.m. daily so long as the dispensation to attend Mass remains.
Sunday Televised Mass
The Televised Mass for the Homebound is available throughout the Diocese each Sunday. In northern parts of the Diocese (Manatee, Highlands, Hardee, Sarasota, DeSoto and Charlotte counties) the Mass airs on television at 9:30 a.m. on the CW Network. In the southern portions of the Diocese (Collier, Lee, Glades, Hendry, Charlotte counties) the Mass airs at 10:30 a.m., on WFTX-TV (FOX-4). This same Mass can be found on the Diocese of Venice website at any time during the week, www.dioceseofvenice.org/tvmass. Please check local listings for channel information.
Parish donations
During this challenging time in the life and mission of the Diocese of Venice, our Parishes face increased risk of financial shortfalls due to the COVID-19 Pandemic and its effects on everyday life. Parishes depend on weekly financial gifts to continue their ministries, especially in this critical time of crisis. The Diocese of Venice is providing an online platform and encourages the Faithful to support their Parish. Please visit https://dioceseofvenice.org/ways-to-give/parish-donations-online/ to donate to your Parish. The Faithful may also contribute through their usual channels (e.g., envelopes, and through the Parish online giving option). Together we will navigate through this crisis, provide assistance to those in need, and secure the road ahead for the Parishes within the Diocese of Venice.
Online Resources
A special coronavirus webpage is located on the Diocese of Venice website homepage at www.dioceseofvenice.org. Resources include links to the Mass, the prayer for Act of the Spiritual Communion, videos of the Stations of the Cross, Divine Mercy Chaplet and Pray the Rosary. The U.S. Conference of Catholic Bishops website, www.usccb.org, also posts the daily Mass readings.
Year of Saint Joseph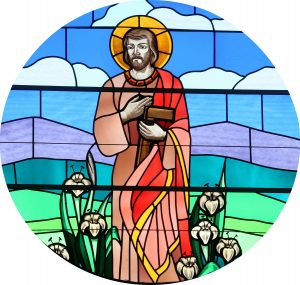 On the Solemnity of Saint Joseph, March 19, 2020, Bishop Frank J. Dewane consecrated the Diocese of Venice to the care and protection of Saint Joseph in the context of the Coronavirus. The Bishop announced a "Year of Saint Joseph" beginning March 19, 2020 through March 19, 2021. Saint Joseph, often referred to as the Protector, can be our protector during this time of the pandemic. To pray a Novena to Saint Joseph please visit the Year of Saint Joseph webpage at www.dioceseofvenice.org.
Online Directed Retreats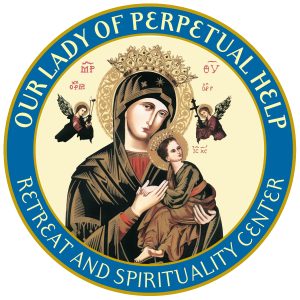 During the current health crisis, Our Lady of Perpetual Help Retreat Center in Venice is offering online 3-day, 5-day, and 8-day retreats based on the Spiritual Exercises of St. Ignatius. In these online retreats, Father Mark Yavarone, OMV, or Father Lino Estradilla, OMV, trained spiritual directors, will meet with you for an hour each day via a link provided to you, to help you to pray and to recognize how God is speaking to you. A Bible and journal should be available for your use. Participants will be emailed any additional materials needed as the retreat unfolds. The cost is as follows: 3-day online retreat, $132.23; 5-day online retreat, $203.98; and 8-day online retreat, $306.48. All information will be confidential, and password protected. If you would like to participate in an online retreat, please email Denise Riley at riley@olph-retreat.org and a code will be provided for your online registration as well as an application. For planning purposes, please allow 7 days from your completed application until the beginning of your retreat.