Advent begins at Catholic Center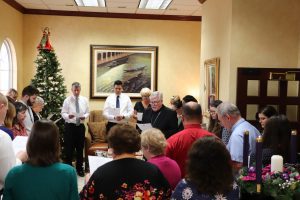 Bishop Frank J. Dewane led a prayer service for the staff of the Catholic Center in Venice on Dec. 1. The prayer service included the blessing of the Advent Candle, Christmas Tree and Nativity scene which will be on display in the lobby throughout Advent.
Parish holds Children Festival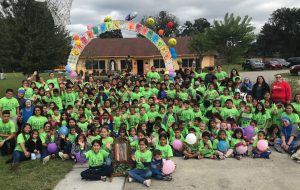 St. Michael Parish in Wauchula hosted a Children Festival Nov. 16 for the younger members of the parish. There were a variety of fun outdoor games, crafts, food and time for quiet prayer.
Rose Ball recognizes service of young ladies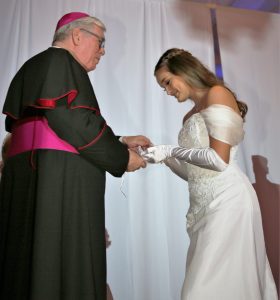 The Mother Frances de Sales Auxiliary to the Homeless held its Fourth Rose Ball Nov. 30 at the Naples Grande Beach Hotel and Resort where 22 young ladies were recognized for their commitment of volunteer service and formation. The event benefited four organizations in Collier County that work to help break the cycle of homelessness. Bishop Frank J. Dewane presented each young lady with a silver Rose Ball medallion of the organizations' patron, Mother Frances de Sales, known as St. Leonie Aviat, who was canonized on Nov. 25, 2001. The ladies, known as Rose Girls, committed to a two-and-a-half-year volunteer and personal formation program where they make pledges of dignity, charity, and purity and were presented to those gathered as Dignified Ladies of Volunteer Service.
Youth make Advent Wreaths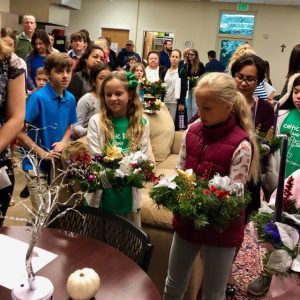 Youth from St. Columbkille Parish in Fort Myers had an inter-generational gathering to make Advent Wreaths with their families in mid-November by members of the youth group and religious education programs. There were many smiles as they create a beautiful item to take home as a reminder of God's greatest gift, Jesus. At the end of the fun, the wreaths were blessed.
Students visit Veterans Nursing Home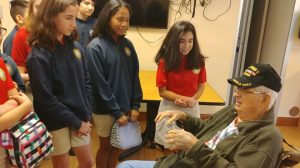 Students who take part in the St. Martha Catholic School & St. Mary's Academy Mission Middle School Elective coordinated the collection of items and delivered "Giving Thanks" bags to the local veterans at the Douglas T. Jacobson Nursing Home in Port Charlotte. The Sarasota students spent time talking to these brave men and women and learning about their service to our country.
Quiz Bowl Champs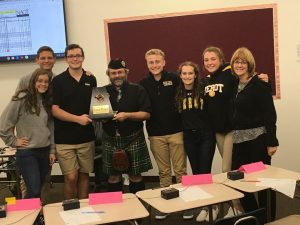 The Bishop Verot Academic team participated in the John C. Schudel Quiz Bowl Tournament the weekend of Nov. 15-16 earning a 1st Place finish! Congratulations Vikings!
Students enjoy time with women religious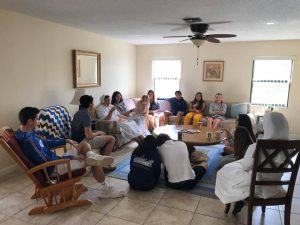 The Y.A.C.H.T. Club ("Youth and Christ Helping Together") of St. John Neumann Catholic School hosted a Neumann Fun "Night" Nov. 24! Students joined the Salesian Sisters of St. John Bosco for Mass at St. Elizabeth Seton parish followed by breakfast at the religious convent.