The Knights of Columbus have done it again. For the 18th time since 2012 a Knights Council has raised the funds to facilitate the purchase of an ultrasound machine for a local pro-life pregnancy center.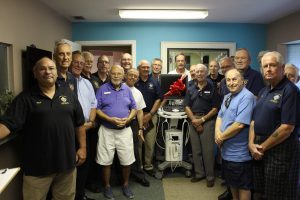 The Ponce de Leon Council 8074 of Sacred Heart Parish in Punta Gorda recently donated an ultrasound to the Pregnancy Careline Center in Port Charlotte. The new machine was blessed during a ceremony on Nov. 8.
To raise the money, the Council conducted a "Baby Bottle Campaign" handing out thousands of bottles to parishioners at Sacred Heart Parish for the faithful to put their loose change, cash or checks.
Knight Steve Kowalski spoke on behalf of the Council during the ceremony and credited the hard work of the Knights in getting the message out about the importance of the campaign and then to the parishioners for raising $18,000 in a matter of weeks.
"They are the ones who gave us the opportunity to succeed," Kowalski said. "With a match from the Supreme Council, we were able to purchase a state-of-the-art machine for Pregnancy Careline Center."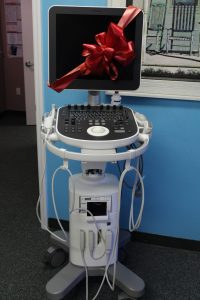 The Phillips 3D/4D Color, ClearVue 850 Ultrasound Machine can detect movement very early on in a pregnancy. "This is so important for the young ladies," Kowalski added. "Some 85 percent of women who are considering an abortion change their mind once they their child move. We wanted to provide the opportunity to show movement as early in the pregnancy as is currently possible, so we worked with the Pregnancy Careline and the Supreme Council to get this machine."
Maria Betancourt, Executive Director, Prenancy Careline Center, said she has seen firsthand the difference an ultrasound has made for a mother who was considering an abortion.
"I can't say enough to those who donated their change and much more, and to the Knights for this generous gift," Betancourt added.
The ultrasound dedication included a number of Knights who were crucial to the success of the "Baby Bottle Campaign" and the machine was blessed by Father Mario Kono, Parochial Vicar of Sacred Heart Parish and Council Chaplain.
Jeanne Berdeaux, Diocese of Venice Respect Life Director, who connects pro-life pregnancy centers with Knights Councils interested in raising money for an ultrasound, represented Bishop Frank J. Dewane who was unable to attend the ceremony.
Berdeaux congratulated the Ponce de Leon Council for their effort and added that she was impressed in that the money was raised in just a few weeks.
Through the Ultrasound Initiative, the Supreme Council provides a 50 percent matching grant and has helped to place more than 1,000 ultrasounds into pro-life pregnancy centers across the nation.