Diocesan group enjoys Catholic Days at the Capitol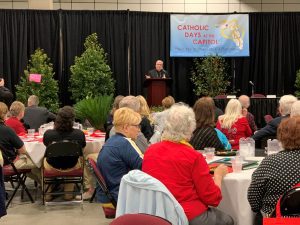 During the Jan. 28-30 Catholic Days at the Capitol, Bishop Frank J. Dewane gave a legislative briefing to participants from across Florida. A group of nearly 50, including students from each Diocesan Catholic high school traveled for this important lobbying opportunity.
Seminarian becomes Lector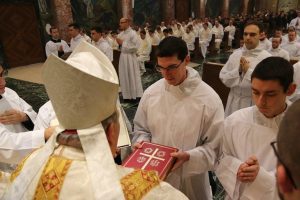 Diocese of Venice Seminarian Daniel Scalan was among a group of first-year students at Pontifical North American College in Rome, to receive the Ministry of Lector on Jan. 11. Archbishop Bernard Hebda, of the Archdiocese of St. Paul and Minneapolis, was the main celebrant and homilist. As part of the rite, the Archbishop placed the Holy Scriptures in the hands of each candidate and said, "Take this book of Holy Scripture and be faithful in handing on the word of God, so that it may grow strong in the hearts of his people."
National Order of Malta leadership meets in Naples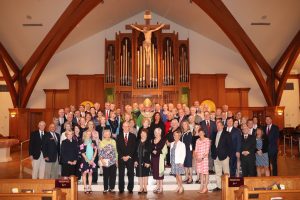 The Order of Malta – American Association, held and Board of Counsellors meeting in Naples in late January. Bishop Frank J. Dewane celebrated a Mass for the group on Jan. 27 at St. William Parish.
Register now Mission Possible Immokalee 2020
The very popular Mission Possible Immokalee 2020 trip registration for high school students is NOW OPEN! Organized as a joint effort of the Diocese Mission Office and Office of Evangelization, students will work on service projects from June 8-12, assisting at Catholic Charities of Collier and Lee Counties sites, Guadalupe Social Services and the Coalition of Immokalee Workers. The mission trip is $199 and includes meals, lodging and transportation to work sites. For more information, please contact the Diocese of Venice Mission Office at 239-241-2233. All registration must be through Youth Ministers at your local Parish or Catholic School.
Bishop recognizes Knights of Bikes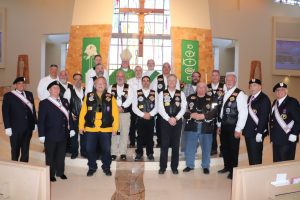 Bishop Frank J. Dewane celebrated Mass at St, Agnes Parish in Naples on Jan. 26, the Sunday of the Word of God. During the Mass, Bishop Dewane offered a special recognition for the Knights on Bikes, a club of Knights of Columbus which includes avid motorcycle enthusiasts. Members took part in the opening and closing processions of the Mass. At the conclusion, the Bishop blessed special key chains with a cross. Each member wears a vest with patches that read: "In God We Trust and Ride" and "In Service to One. Inservice to All."
Parish honors first responders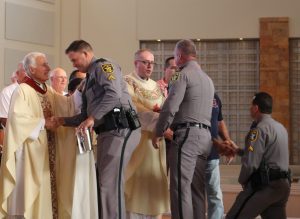 St. Agnes Parish in Naples, honored Law Enforcement Officers, Fire Fighters, and First Responders, both active and retired with a Blue Mass on Jan. 25. Dozens of officers attended with their families to honor first responders who died in the line of duty and to pray for the safety of those still serving. The guest homilist was Father Sean Connor, Chaplain of the Boston Police Department. During the final blessing Father Michael Orsi, Parochial Vicar of St. Agnes, blessed medals of St. Michael the Archangel to give out to all the first responders for protection.
North Port Show of Shows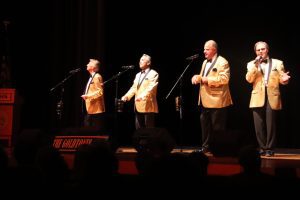 Catholic Charities Diocese of Venice Inc. and the Knights of Columbus hosted The Goldtones Jan. 25 at the first ever North Port Sugar Bowl Show of Shows. Playing songs from 50s and 60s The Goldtones entertained an enthusiastic crowd at the North Port Performing Arts Center at North Port High School. The Sugar Bowl Fund helps support families in crisis, providing emergency financial assistance for low-income families in Sarasota, Manatee and Charlotte counties. The Sugar Bowl Fund is a community partnership between Catholic Charities and the local Knights of Columbus Councils. The goal of the fund is an attempt to keep families together, self-sufficient and relieved of some of the pressures that cause greater hardship. Financial assistance can include help for car repairs, medical bills, utilities, rent or mortgage payments as well as relocation fees. The North Port Show of Shows was the first in this part of the area, similar events have been taking place for several years in Venice each fall and in Bradenton each Spring.
Jammin' for the Mamas a success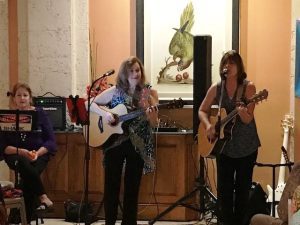 About 130 guests showed up at the Boca Royale Golf and Country Club in Englewood for a "jawsome" night of fun, food, music and fundraising with the Shark Sisters! The Jammin' for the Mamas event featured the popular local music trio and all proceeds benefited Our Mother's House of Catholic Charities which serves homeless mothers and their children and helps them to achieve self-sufficiency.