Department of Education conducts Clinical Education Course
John Carkeet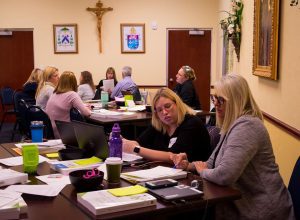 More than two dozen teachers and administrators from the Diocese of Venice Catholic Schools gathered Jan. 21 at the Diocese's Catholic Center in Venice for a Clinical Education Course.
Approved by the Florida Department of Education, clinical education training is required for postsecondary teachers who instruct and/or supervise field experience courses or internships.
"This is the first and arguably the most critical step in the Diocese's professional mentoring program," said Jennifer Falestiny, Diocese of Venice Curriculum Coordinator. "In two days, teachers are expected to learn scientifically researched skills, techniques and practices to prepare them to mentor new teachers and host college interns in their classrooms."
Through videos, roleplay, case studies and breakout sessions, Falestiny is helping teachers acquire a deeper understanding and appreciation of the certification program.
"There are four key skills associated with this course: developing a growth mindset, conducting effective content planning conferences, becoming expert observers and providing target feedback on performance," said Falestiny. "Teachers who master these skills can confidently lead and mentor our next generation of instructors."
Falestiny plans to host this and similar courses specifically designed for teachers throughout the remainder of the 2019-20 academic year.
"We are in an age where continuing and clinical education is no longer a convenience but a necessity," said Falestiny. "We need not just great teachers but great teachers who are willing and able to help other teachers reach their potential. If the Diocese can have at least two certified teachers in this program, then we are in a much better position to retain our talent and enhance our stellar curriculum."