Bishop serves as Grand Marshal to Marco St. Patrick's Parade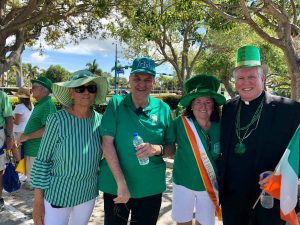 Bishop Frank J. Dewane served as the Grand Marshal for the 2019 Marco Island St. Patrick's Day Parade on March 3. The parade included a variety of floats and various musical performers including the St. John Neuman Catholic High School Band from Naples.
Parish celebrates 20 years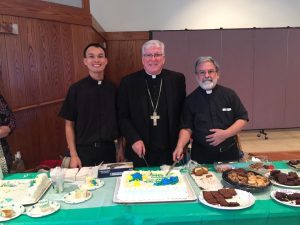 Our Lady of the Angels Parish Lakewood Ranch celebrated their 20th anniversary with a Mass and party on Feb. 24. Bishop Frank J. Dewane was the principal celebrant for the Mass with current, past and neighboring priests concelebrating. It was noted that the faith community, which has been in a new parish church for about a year, has grown thanks to the efforts of the priests and of the strong support of the people who make Our Lady of the Angels what it is today.
Order of Malta retreat brings in Archbishop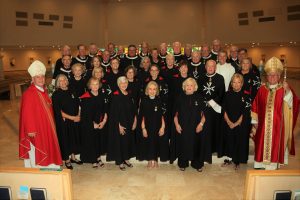 Archbishop Jerome Listecki, of the Archdiocese of Milwaukee, was the retreat master for an Order of Malta retreat in Naples from March 1-3. Bishop Frank J. Dewane celebrated a Mass for the knights and dames of the order on March 1 at St. Ann Parish and was joined by Archbishop Listecki.
St. Andrew student saves father, receives "Do The Right Thing Award"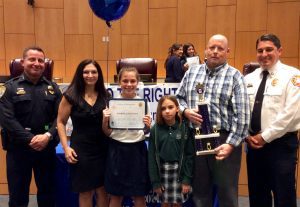 Kendall Sullivan, a seventh grader at St. Andrew Catholic School in Cape Coral, was recently honored at the Cape Coral "Do The Right Thing" Awards. She was recognized for her fast thinking and calm demeanor in a very stressful situation when her father had a medical emergency while driving here and a her younger sister to school. After a minor traffic accident, the quick-thinking student was able to remove the keys from the ignition and turn off the car. She then explain to bystanders and emergency medical personnel about her father's medical history which was credited with helping him make a full recovery. She was presented the 'Do the Right Thing Award" for being able to prevent injury to her family and others on the road all while putting her fear aside.
Two Diocesan teams going to state Odyssey of the Mind competition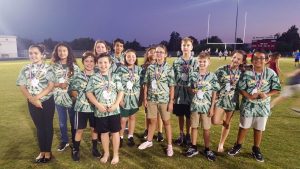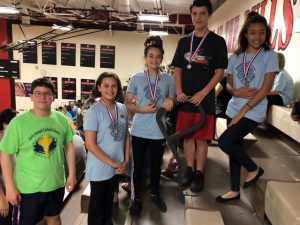 The St. Joseph Catholic School in Bradenton and St. Andrew Catholic School in Cape Coral both qualified teams for the state Odyssey of the Mind competition at the University of Central Florida in April! The teams did well in regional qualifiers on March 2 competing against more than 100 schools from across the area. Odyssey of the Mind is a creative problem-solving program where teams work together to solve complex problems.
Parish holds annual Gala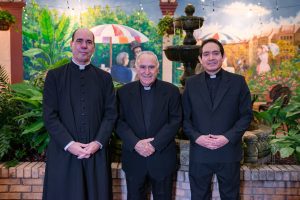 St. Jude Parish in Sarasota held their annual Gala Feb. 15 at Michael's on East. The theme of the evening was "One World, One Family," and in addition to fine dining, there was dancing, photo booth, raffles and live auction, including for Father Celestin Gutierrez's famous paella dinner.
Epiphany Cathedral students participate in Kids Heart Challenge
Students at Epiphany Cathedral School know that February celebrates St. Valentine and is American Heart Month by participating in the Kids Heart Challenge which educates them on how their heart works, ways to stay healthy and how to make a difference in the lives of others. American Heart Association Youth Marketing Director, Emily Helter visited the Venice to the school on Valentine's Day to speak with the 2nd & 3rd grade class about the fundraiser and ways to stay heart healthy.  This year the student's goal is to raise $5,000 with the school raising $8,000 in the past two years. The Kid's Heart Challenge fundraiser culminated with a school-wide event with jumping rope, hula hooping, dance and many fun activities designed to illustrate that being active is both fun and life-saving.