2020 Sarasota Charity Ball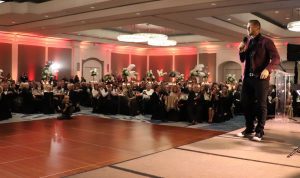 The Catholic Charities Ball "Puttin' It On the Ritz!" took place Feb. 8 at the Ritz Carlton Sarasota. The event had a Roaring 20's theme and featured special guest Tim Tebow, Heisman Trophy winner, two-time Florida Gator National Champion, professional baseball player, sports broadcaster and head of the Tim Tebow Foundation. The event benefited the programs of Catholic Charities in Sarasota and Manatee Counties including Our Mother's House, Bethesda House, and the St. Martha Early Learning Center.
Blessing of doors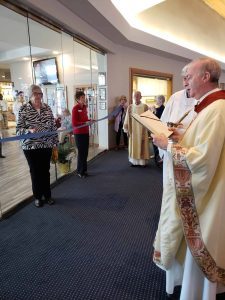 Father Gerard Critch, Pastor St. Peter the Apostle Parish in Naples, blesses the new glass doors in the church that were installed thanks to the fundraising efforts of our CCW – Council of Catholic Women. Now it is more peaceful in the church and it also saves on the air conditioning costs!
School Foundation dinner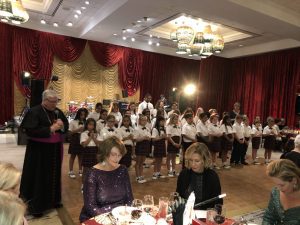 Bishop Frank J. Dewane gives the blessing before the meal at the St. Ann Catholic School Foundation Gala Feb. 5 at the Naples Grande Hotel.
Teacher earns research grant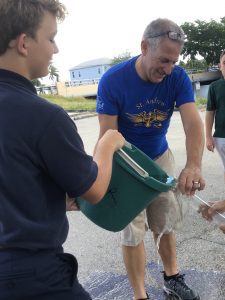 James Less, a teacher at St. Andrew Catholic School in Cape Coral, recently learned that he was a recipient of a research grant from the Society for Science & the Public.  Research grants are awarded across the country to a handful of high school and middle school teachers. In his grant submission, Less described he would use the funds to purchase data loggers with probes. The equipment will be used for students to collect, store and analyze their research data. "This equipment will also enable our students to conduct important and timely research because there is great statewide interest in water quality issues in Southwest Florida. The proposed equipment will put our students on the forefront of several local initiatives to undertake field studies that complement those of local colleges and universities."
Speaker talks abstinence, life issues to teens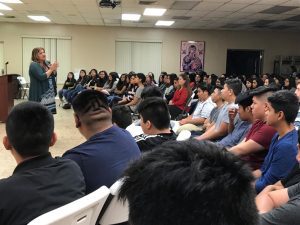 Pam Stenzel spoke Feb. 12 to youth at St. Michael Parish in Wauchula about pro-life issues and the importance of abstinence.
Order of Malta holds retreat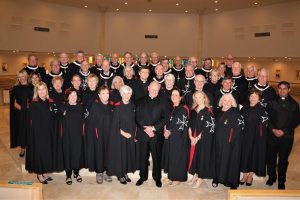 Knights and Dames of the Order of Malta took part in a retreat which included Feb. 7 Mass at St. Ann Parish in Naples.
Golf Tournament and $10,000 Drawing
St. Mary Academy's 9th Annual Golf Tournament will be held  8:30 a.m., April 4, at The Meadows in Sarasota. This is a best-ball tournament and the cost is only $100 per player. Participants will receive breakfast, great goody bags and a sit-down BBQ lunch. In addition, there will be two drawings of $5,000 each during lunch. You do not need to play in the tournament to win the cash prize, tickets for the drawing are $50.00 each.. The event supports St. Mary Academy which educates students with learning disabilities. To register to golf or drawing information, please contact Connie Taft at 941-366-4010 or ctaft@stmarysarasota.org.