Bishop blesses Knights on Bikes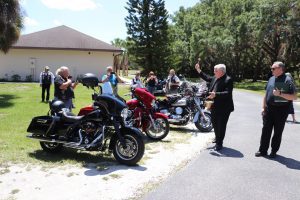 The Knights of Columbus Knights on Bikes of the Diocese of Venice welcomed Bishop Frank J. Dewane as he blessed their motorcycles May 19 at Our Lady of Perpetual Help Retreat Center in Venice. Bishop Dewane first celebrated a Mass for the group and then led a prayer service and blessing. Organized by George Lopez of Ave Maria Parish, the motorcyclists came from across the Diocese. The Knights on Bikes is a worldwide organization consisting of members of the Knights of Columbus who are also motorcycle riders. The Knights on Bikes was formed in the United States in April 2005. Members proudly wear a vest that clearly promotes the Knights of Columbus organization.
Seminarians graduate from college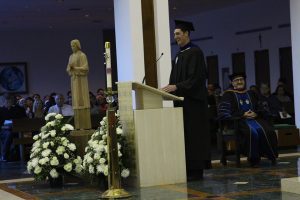 Three Diocesan Seminarians recently graduated from college. Transitional Deacon Carlos Encinas earned his Master's in Divinity from St. Vincent de Paul Regional Seminary in Boynton Beach on May 9. The day before, Seminarians Daniel Scanlan and Juan Contreras graduated from St. john Vianney College Seminary in Miami. Scanlan graduated at the class valedictorian. Deacon Encinas will be ordained to the priesthood in the fall, while Scanlan and Contreras will next go on to St. Vincent de Paul Regional Seminary.
Food sorting from Post Office drive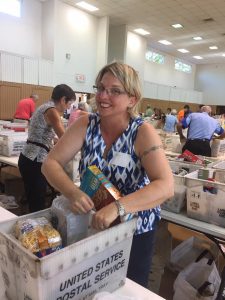 The St. Joseph Food Pantry in Bradenton received food deliveries from five U.S. Post Offices as part of a Letter Carries "Stamp Our Hunger Food Drive." On May 11, some 300 volunteers helped sort the food in the St. Joseph Parish School gymnasium and stock the Food Pantry. The food pantry serves all of Manatee County and in 2018 the Food Pantry served more than 5,300 families with 12,772 family members of which 4,443 were children and 442 were veterans. These families visited the pantry and received food over 19,600 visits during the past 12 months. In addition, the Food Pantry distributed more than 550 bags of food and toiletries to the homeless of Manatee County during the year. An additional 1,000 bags of food are distributed Thanksgiving Week. For more information about the St. Joseph Food Pantry, call 941-756-3732, email directors@stjoepantry.com or send donations to St. Joseph Food Pantry, 2704 33rd Ave. W., Bradenton, FL 34205.
Sarasota school expands offering
Incarnation Catholic School, 2911 Bee Ridge Road, Sarasota, will be expanding their early learning classes to include a PreK three program. The program will offer a monthly theme-based curriculum that will include math, science, language and basics of our Catholic faith. Our little learners will discover answers to big questions like "How do Plants Grow?" and " Who lives in the Ocean?". Small class sizes will allow for individual attention and differentiate instruction. Playground time will provide an opportunity to work on gross motor skills.  The program will offer full and part time options, perfect for every family. Children must be potty trained and three years old by September 1. For more information please call 941-924-8588.
Verot grad tapped to head ATF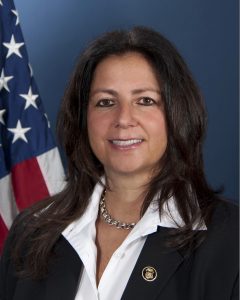 Regina Lombardo, a 1981 graduate of Bishop Verot Catholic High School in Fort Myers, was announced on May 1 as the new acting deputy director of the Bureau of Alcohol, Tobacco, Firearms and Explosives (ATF), the first woman to head the federal agency. Lombardo has served as the associate deputy director and chief operating officer for the agency since March 2018, with responsibility for the day-to-day operations of the agency. She has served as a special agent at ATF since 1992 and has risen through the ranks as a career employee, holding numerous management positions that include assistant director of Human Resources and Professional Development, deputy assistant director of Field Operations' Central Region, special agent in charge of the Tampa Field Division, assistant special agent in Charge of the New York Field Division, and assistant country attaché in Toronto, Canada.
Youth event May 31 on Sanibel
Youth from across the Diocese are invited to take part in an event 7-10 p.m., May 31 at St. Isabel Parish, 3559 Sanibel Captiva Road, Sanibel. This event is open to everyone but the Youth Groups in the area are encouraged to participate. The event, titled "Immeasurable Mercy!" will feature our well-known local musician Mark Shapic and vocalist Jennine Fuentes! Also included is pizza, refreshments, games, Adoration and Reconciliation along with some praise and worship. It's a time for music, fun, and fellowship! RSVP to Dr. Sue Ellen Nolan at @sueellen.nolan@saintisabel.org.
Taize Prayer service May 31 in Sarasota
St. Thomas More Parish, 2506 Gulf Gate Drive, Sarasota, invites people to a special Taize Prayer Service, 7 p.m., May 31. The feast of Pentecost commemorates the beginning of the Church in a new way, with the arrival of the Holy Spirit and with the disciples speaking so that many people heard the gospel in their own language. The prayer in the manner of Taizé is a good way to discover a shared gospel in many languages. Celebrate Pentecost with Song, Silence and Scripture in the style of Taizé monastery in France. The simple and beautiful chant music is dedicated to the renewal of spirits and the healing of our planet. The repetitive nature of the chanted prayer can promote a kind of inner unity of the person, allowing the spirit to be more open and more attentive to what is essential. Silence is a fundamental part of the Taizé service. For more details, please call 941-923-1691.