Bob Reddy – Florida Catholic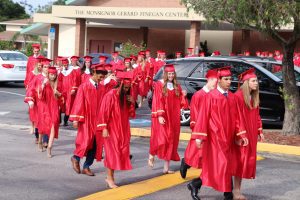 Congratulations to Cardinal Mooney Catholic High School Class of 2019. They are now high school graduates who leave their time with a Diocesan Catholic education that has prepared them well for their journey into adulthood.
The commencement exercises were held May 17 at the Van Wezel Performing Arts Center in Sarasota. Valedictorian Lorca Looney Stainton and Salutatorian Sam Dillion Koscho both spoke during the commencement, sharing words of wisdom and reflecting upon the benefits of their Catholic education.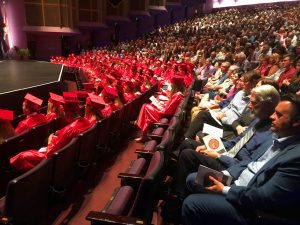 The Commencement Address was given by Dr. Janina Morusiewicz Krajewski, Mooney Class of 1994, who owns a veterinary hospital in Palmetto.
The 102 graduates earned a combined $9.5 million in scholarships with all of the students going on to some of the finest college and universities in the country.
The students participated in a May 15 Baccalaureate Mass at Incarnation Parish in Sarasota, which was celebrated by priests of the Diocese, with Archbishop Bernard A. Hebda, Archbishop of St. Paul-Minneapolis and uncle of two of the graduates, as the main celebrant. Mooney Chaplain Father Eric Scanlan delivered the homily and said the students were taught to learn that the Catholic Faith is "a Faith that calls us to love our God above all things and our neighbor as oneself. A Faith that sees God in all that is good and true and beautiful."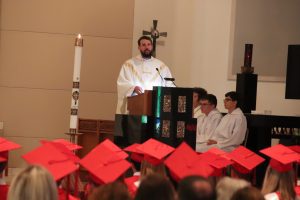 Father Scanlan also encouraged the graduate to believe as they go forward that Christ will do everything He can to deliver them to fulfillment and true happiness. "To do this, you need to stay close to Him. Stay close to Him in the years to come. All he wants is you; your heart, and whatever comes, if you are with Him – all will be well."
The most inspiring moment of the graduation was when Jaelen Childs received his diploma. It was on Jan. 31 when the baseball player was critically injured in a traffic crash not far from the high school. The baseball player has struggled to recover from a shattered left femur and pelvis as well as internal injuries and received a great deal of support from the school and classmate which helped him to persevere and to be at the commencement.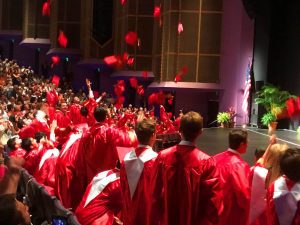 Childs is still recovering from his injuries and was in a wheelchair on stage during the ceremony. After each of the other students were presented their diplomas, Assistant Principal Stefan Gates called out his name. With the aid of crutches, he walked across the stage to a standing ovation to receive his high school diploma.