Winds from Hurricane Nicole peaked at 57 mph at Sarasota-Bradenton International Airport and gusts were reported higher through the region still picking up the pieces from Hurricane Ian 43 days earlier.
Those winds on Nov. 10, 2022, were enough to cause tarps at several sites to be ripped, allowing more water into buildings which were damaged during Ian on Sept. 28.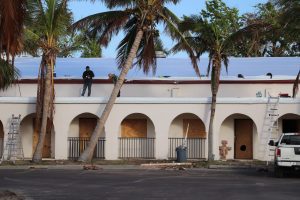 Incarnation Parish and Catholic school in Sarasota both had damage and water intrusion during Ian and the winds from Nicole penetrated the tarps. Parish and school staff reported new water intrusion and teams were quick to come out to mitigate any further damage.
This type of tarp damage and water intrusion also occurred at Epiphany Cathedral Catholic School in Venice, the rectory at St. Charles Borromeo Parish in Port Charlotte and the hall at Sacred Heart Parish in Punta Gorda. Each of those locations also had water intrusion during Ian with tarps that were compromised.
Diocese of Venice Buildings Manager Joe Rego said it was disappointing that the tarps failed, but thanks to quick action at the Parishes and schools, the additional damage was negligible and is unlikely to delay any scheduled repair work.
"It happens. We cannot control the weather," Rego said. "This adds some more mitigation work we had not planned on at a time when we are starting to ramp up our work to get repairs done."
At sites where damage to the buildings was extreme due to storm surge, such as Ascension Parish in Fort Myers Beach and St. Isabel Parish on Sanibel, the winds from Nicole added to the debris needed to be cleaned up.
One worker in Fort Myers Beach explained that there are many large piles of debris all over the island which meant even wind gusts of about 40 mph during the storm were enough to carry roof tiles, insulation, and other small items onto the grounds, adding to the cleanup process.
During Hurricane Ian damage was reported at more than 30 Parishes in the Diocese, 10 Catholic schools, as well as to other Diocese-owned and operated buildings. Teams have been doing mitigation work, such as putting tarps on roofs, removing damaged equipment and furniture and much more. Other work includes the removal of drywall where necessary.
"There is a lot of work that needs to be done," Rego said.
Check back in the Nov. 25, 2022, e-edition of The Florida Catholic for the latest in the recovery and rebuilding in the Diocese following Hurricane Ian.