It was a busy time the past week for athletes at Diocese of Venice Catholic high schools between competitions and signings.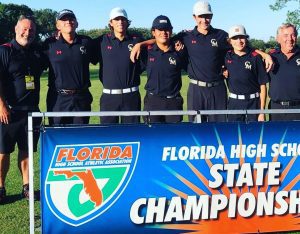 First up, Cardinal Mooney Catholic High School Sophomore Nico Bencomo fired a -1 (71) to tie for 2nd in Florida High School 1A Golf State Championship, Nov. 12, 2022, at Mission Inn Resort and Country Club in Howey-in-the-Hills. Bencomo led Mooney to a team bronze medal.
Mooney's Tommy Tyler fired an even par 72, one shot out of the medals to tie for 6th. Other Mooney golfers included Joe Pike, Lukas Wahlstrom, and Finley Murphy. This is the best team finish in school history for the Sarasota boys.
At the same competition, the Bishop Verot Catholic High School team finished 5th overall. The golfers were Christian Allen, Michael Bevins, Zachary Loninger, Kevin Kelly, and Dalton Payne. In addition, Connor Shea, of St. John Neumann Catholic High School in Naples was the only boy to qualify for States.
In the girls' golf competition, the Verot team finished 12th overall. Golfers included Amelia Loninger, Samantha Loninger, Morgan Franklin, Caroline Kelly, and Ava Aloia. Due to the impacts of the Hurricane Nicole, the State Championship was delayed and then shortened a single 18-hole event.
Meanwhile, on National Signing Day, Nov. 9, 2022, 13 student-athletes from across the Diocese signed their letters of intent to play at the collegiate level.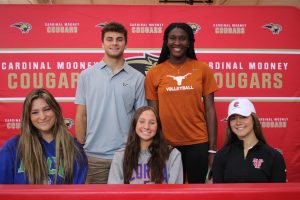 At Mooney, five student-athletes made their announcements. They include: Jordyn Byrd, University of Texas (volleyball, the 6-foot-5 senior outside hitter is part of the 1,000 Kills Club and was the 2021-2022 Gatorade Florida Volleyball Player of the Year); Michaela Mattes, University of Florida (swimming, ranked as the No. 5 recruit in the country and No.1 out of Florida according to College Swimming.com for the Class of 2023); Jack McKinnon, University of South Florida, (baseball, also a standout varsity football player); Olivia Davis, University of Tampa (basketball, four year starter at Mooney); and Caity Patterson, Florida Gulf Coast University (softball).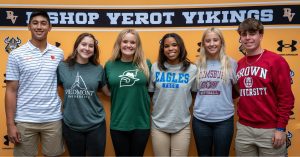 At Bishop Verot, six students signed their letter of intent. They are: Victoria Ash, Stetson University (softball); Camryn Feast, Florida Gulf Coast University (softball), Andrew Hanlon, Brown University (baseball); Aidan Knaak, Clemson University (baseball); Sarah Yamrick, Bloomsburg University of Pennsylvania (softball); and Gigi Malik, University of Piedmont (lacrosse).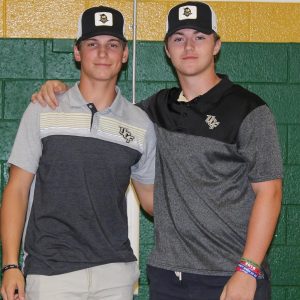 At St. John Neumann in Naples, Carter White and Tyler Kozera both signed to play baseball at the University of Central Florida.
Congratulations and good luck to each student-athlete!