Family Day in Wauchula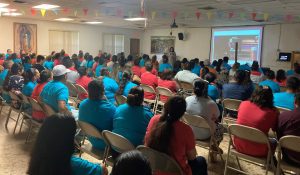 The 2022 St. Michael Parish Family Day on Nov. 12, 2022, in Wauchula, welcomed more than 130 families (over 250 participants to include parents and their children) for a beautiful day filled with guest speakers about parenting, a young adult guest speaker, and children learning about the Eucharist and how to have a stronger relationship with Jesus. There were family games and raffles. The day ended with a Eucharistic Procession and Holy Mass, and dinner. The day focused on prayer for the conversion of all, that they may seek God in the Eucharist to guide them as a united family.
Naples Scout recognized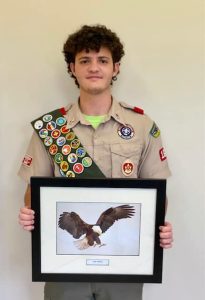 Luke P. Rubino, a senior at Naples High School and St. Ann Catholic School Class of 2019, achieved Eagle Rank from the Boy Scouts of America-Southwest Florida Council/Alligator District with Troop 165, now affiliated with St. Ann Parish in Naples. Luke was also awarded the Good Citizenship Award presented by the Marine Corps League (E.T. Brisson Detachment #063) of Naples on Nov. 13, 2022, in the Parish Hall.
New altar servers blessed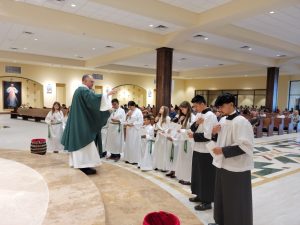 Father Luis Pacheco, Pastor of St. Paul Parish in Arcadia, recently welcomed and blessed a new group of altar servers. The blessing took place Nov. 13, 2022, for the boys and girls who completed a training program. These servers will now be able to serve at Masses each week.
Naples students build bikes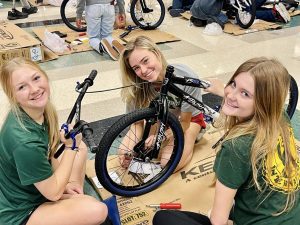 More than 30 St. John Neumann Catholic High School students came together with Key and Kiwanis clubs from around the county to build bikes with the Bikes for Tykes Organization at Palmetto Ridge High School in Naples on Nov. 12, 2022. Students worked in teams of two assembling new bikes that were donated to local families. During the event, some of the students entertained the waiting children with face painting and games.
Fort Myers robotics team gains experience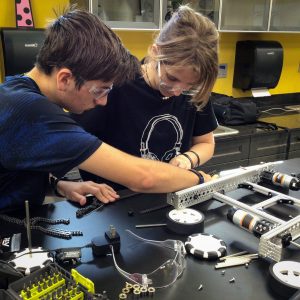 The Bishop Verot Catholic High School robotics program hosted two local robotics teams to work on their designs and programming in Fort Myers on Nov. 5, 2022. The "Java the Hutt" team was incredibly helpful, as they brought their robot and helped the Verot teams get their bots built and programmed to move. The students learned about the latest version of a competition robot. The Cypress Lake team shared ideas and were instrumental in getting a playing field constructed, while advising about which materials to purchase and use to help construct future Verot robots. Events like this are vital to the growth of robotics in Southwest Florida.
Thanksgiving festival delights children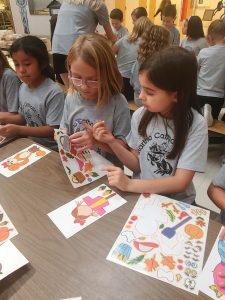 St. Martha Catholic School National Junior Honor Society hosted a Thanksgiving Festival for students in kindergarten through second grade in Sarasota on Nov. 14, 2022. The students decorated their own cookies, colored placemats, created turkeys, wrote what they are thankful for, played Thanksgiving Bingo and completed Thanksgiving Math.