Faithful gather at Parishes throughout the Diocese of Venice for a celebration of the Paschal Triduum (April 1-4, 2021).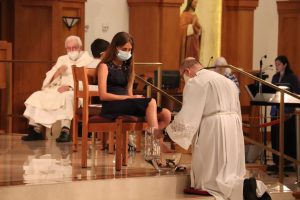 The Paschal Triduum of the Passion and Resurrection of the Lord begins with the evening Mass of the Lord's Supper (Holy Thursday), has its center in the Easter Vigil, and closes with Vespers (Evening Prayer) of the Sunday of the Resurrection (Easter).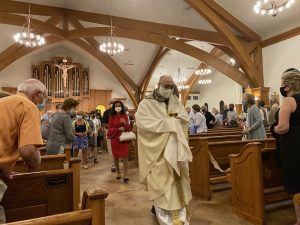 Through the implementation of health and safety precautions, including social distancing and the wearing of masks, the 2021 celebrations were a stark difference from the Triduum of 2020 when churches were closed to public Mass during the early days of the global Pandemic.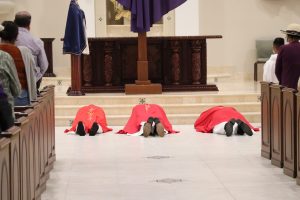 The Mass of the Lord's Supper at St. William Parish in Naples included the commemoration when Jesus Christ established the Sacrament of Holy Communion prior to His arrest and crucifixion. It also observes His institution of the priesthood. This Liturgy included the presentation of the oils blessed and consecrated by Bishop Frank J. Dewane during the March 30 Chrism Mass which will be used for the Sacraments in the Parish throughout the year.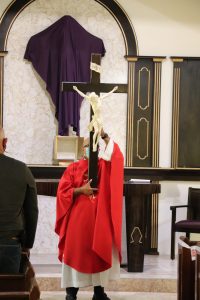 Later, was the traditional washing of the feet. A procession with the Holy Eucharist to transfer the Eucharist to the place of reposition in the Parish Hall followed the Prayer after Communion. This procession led out the main doors of the church and then around to the rear where the hall is located. Along the way were tiki torches to light the path.
On Good Friday of the Lord's Passion, the faithful at St. Margaret Parish in Clewiston participated in the Stations of the Cross prior to the Liturgy which included the reading of the Passion from the Gospel of John.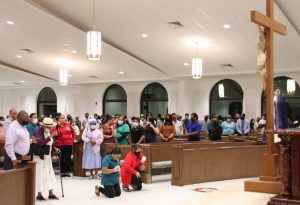 Stations of the Cross at a few Parishes were led by children and in many cases the presentation was scaled-back due to the Pandemic. For example, thousands typically participate in the Stations at Our Lady of Guadalupe Parish in Immokalee. The Liturgy was celebrated in English, Spanish and Creole and still drew a large crowd. Different in 2021, health and safety precautions required that the Veneration of the Cross took place without physically touching the crucifix.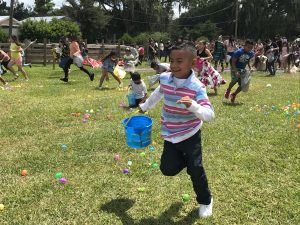 An Easter Triduum Retreat at Our Lady of Perpetual Help Retreat Center in Venice drew more than 30 people. Led by Director of Spirituality Father Mark Yavarone, Oblate of the Virgin Mary, the retreat started with supper on Holy Thursday and ended with breakfast on Easter Sunday following the celebration of a Sunrise Easter Liturgy.
On Easter, to accommodate the expected crowds and to ensure social distancing, Parishes throughout the Diocese added extra Masses and some even set up tents outside.