A Mass of Christian Burial for Father Patrick C. Organ, Pastor for 31 years at San Pedro Parish in North Port, brought forth his family, brother priests and the lay faithful to pay homage to the man who humbly served in persona Christi for 51 years totally.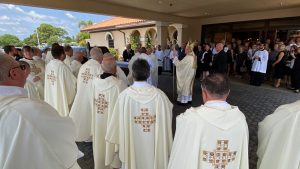 Bishop Frank J. Dewane was the main celebrant and Father Leo Riley, Pastor of San Antonio Parish in Port Charlotte, offered the homily. Dozens of priests were also present for the solemn occasion, honoring their brother for his service in this life and sending him forth into his next life. Reflecting his Irish birth, the Mass included several songs from his native land, including bagpipers.
Father Organ was 77 when he died on June 9, 2022, after a brief illness. This was just a few months short of his formal retirement. As Bishop Dewane noted during the June 21, 2022, Mass, the Diocese was grateful for the service of Father Organ, and the impact he made on the people at San Pedro and beyond.
"Father made a contribution here and it continued to the last," Bishop Dewane said. "When Father Pat was there, you knew he was there. You had a blessing here at San Pedro Parish to know that you knew he was here, and more importantly, he knew you were here. That is why he was here. That is why he didn't want to go anywhere, because his 'family' was here. Yes, he spoke often about his family back in Ireland and his growing up there… I know Father Pat looks down upon all of you, grateful, 'How kind of them, they were always so good.' He wanted to remain, but at some point, he realized it was time to move on; not too far away, but the Lord decided 'Yes, you are going to move; you are going to come home.'"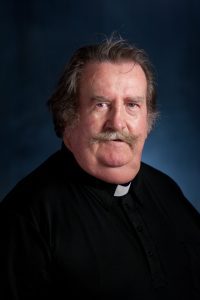 Born in Ennistymon, County Clare, Ireland in 1944, Father Patrick C. Organ was the eldest of five children. Having attended Ennistymon Christian Brothers Seminary and St. Kieran's Seminary in Kilkenny, Ireland, he was ordained on June 13, 1971, for the Archdiocese of Miami.
Father Organ served at Parishes in Lake Worth, Miami, Coral Springs, and Hollywood. Within the Diocese of Venice (established in 1984), Father served as Parochial Vicar at San Marco Parish on Marco Island, St. Charles Borromeo Parish in Port Charlotte, and then as Pastor of Our Lady of the Miraculous Medal Parish. It was on May 21, 1992, when Father arrived as Pastor of San Pedro and found a "home and family." In addition, through the years, Father also served on various Diocese of Venice boards and committees. He will be missed.