Not even a week out of school for the summer and a group of students were back on the campus of St. Joseph Catholic School in Bradenton to take part in a STREAM (Science, Technology, Religion, Engineering, Arts, and Math) Summer Camp where they got to perform all types of experiments and had lots of fun.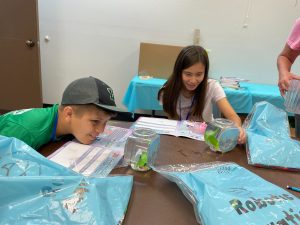 The camp opened on June 6, 2022, with a Spacecation! Eager young scientists made space containers for gear, set up an experiment for hatching space eggs, built and operated robotic arms, and even created their own "Jupiter" volcanoes.
This camp incorporates the "Camp Invention" program for children in grades K-6, where STREAM skills are built with creative, hands-on problem-solving activities.
Each day of the camp pushes students to use a variety of skills and brainpower to work on fun projects as they learn to work as a team to make amazing objects and learn about how the world works. Each section offers a variety of challenges and tasks the students must work to complete. In some experiments they are given strict guidelines to follow, while in others they can be as creative as they wish all in the name of science and learning.
The students worked on their creative writing with Plot Coasters! During this project, the students learned about story parts and writing creative stories. The prompt for the story was: You found a cave…what was inside? And the creative minds took off from there.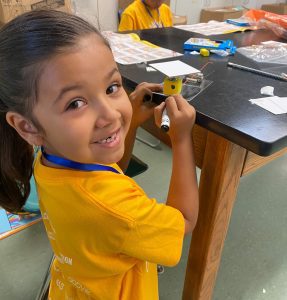 In the Marble Arcade portion of the camp, students started with chain reactions, zigzagged through physics, engineering and gaming as they built a mega marble arcade. This allowed the campers to study engineering while exploring friction, inclines, weights, and scales.
Next up, the campers made a big splash with Aquatic Robotics. The students dove into ocean research and created a habitat for their "jellyfish." They also used their decision-making skills to make design choices, developed and patented new aquatic plants, and created a symbiotic best friend for their aquariums. Then they developed a unique, bio-inspired invention and role-played hooking their investors at the fish market.
They also had time to study probabilities by flipping cups and worked with "Arty Bots" which are not only fun to build, but they can create beautiful works of art!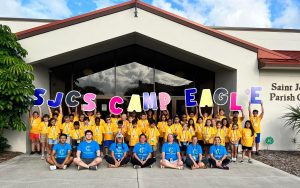 Some of the campers also helped harvest the latest crop of lettuce from the school's new hydroponic garden. This food continues to grow prolifically and is donated to the neighboring St. Joseph Food Pantry.  This experience has been a wonderful opportunity to show how food is grown and ways that we can help others in our community.
These are just some of the examples of the fun and learning that took place during the first two weeks at the St. Joseph Catholic School STREAM Camp. To learn more about St. Joseph Catholic School, please call 941-755-2611 or visit www.sjsfl.org/.