"Great!" "Amazing!" "Awesome!" "Fun!" "Fantastic!"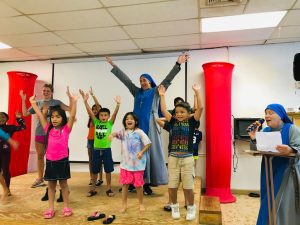 These were just a few of the descriptions from the young boys and girls who took part in the annual St. Michael Parish Summer Fun Day Camp held in Wauchula during the first two weeks of July 2021.
The summer programs were for children from kindergarten through fifth grade and had more than 100 children taking part in a variety of activities, all grounded in helping the boys and girls grow closer to the Lord.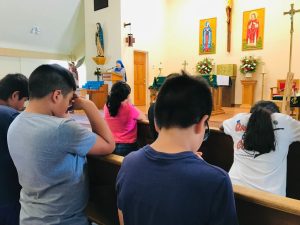 The Servants of the Lord and the Virgin of Matará (SSVM), women religious who serve at the Parish, were helped by a number of other women from their order as well as teen and adult volunteers as they kept the children engaged.
The schedule was simple: an 8 a.m. sign in and then a talk about the Holy Mass with a presentation covering different aspects of full, active and conscious participation in the Mass. They also reviewed the prayers and music. This was followed by going to and actively participating in the daily Mass. At the conclusion of Mass there were additional prayers lead by either a religious sister or teen volunteer.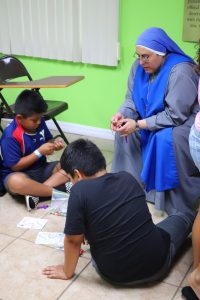 Following a hearty breakfast, they broke into smaller teams to participate in outdoor activities and games with friendly competitions that helped build teamwork, kindness, compassion and respect for others. A special treat was the inflatable water slide.
In the afternoons, different activities included learning about the life of different saints, presentations on the stage in the Parish Hall including singalongs, and more indoor games followed. Other activities involved some art and crafts that included making a personal rosary and drawing.
Each day concluded with snack time, singing and then a recitation of the Holy Rosary.
In the middle of the week, the eligible children and teenagers (helpers included) had the opportunity to receive the Sacrament of Reconciliation. There was even a half-day field trip to an indoor gaming center.
Sister Maria Gema de Jesus Ruiz, SSVM, Director of Religious Education at St. Michael Parish, helped organize the camp. She noted how the success of the annual camp is thanks to the collaboration of hard work by the entire Parish community, including the parents and volunteers, as well as help from other Parishes. Those who could not volunteer donated essential items used throughout the week.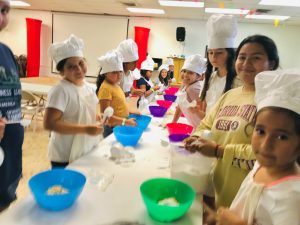 One young lady, Angelica, summed up the camp by saying: "This is the best. I love being here with everyone, and I love the (religious) Sisters who are so much fun!"
If you would like to support the children and youth programs led by the religious woman at St. Michael Parish in Wauchula, please send donations to: St. Michael Church, Attn: Sisters Program, 409 Alice St., Wauchula, FL 33873.