By Karen Barry Schwarz, Special to the Florida Catholic
Fifty pregnancy and counselling experts from 13 agencies — including pregnancy help centers, maternity and after-birth homes, and post-abortion healing groups — attended an annual meeting at Our Lady of Perpetual Help Retreat Center in Venice on Tuesday, May 18, 2022. The focus of the day-long meeting was to discuss and prepare for the various implications of a possible post-Roe v. Wade world, and how to best help women who are dealing with an unexpected or difficult pregnancy, or those who have suffered the trauma of abortion.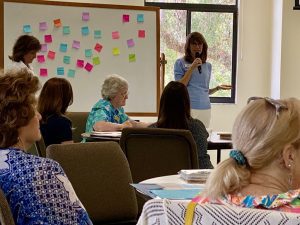 Jeanne Berdeaux, Director of Respect Life for the Diocese of Venice, presented the Diocese's new Walking with Moms in Need initiative, pointing out all the available resources on the Diocese's website (https://dioceseofvenice.org/walking-with-moms-in-need). Walking with Moms in Need is a program designed to not only help pregnant women by pointing them to local pregnancy help centers, but also to educate everyone within the parish about the resources available so that they, too, know how to help.
Other speakers included: Lisa Rowe & Karin Barbito from Support After Abortion, Pam Stenzel, Community Pregnancy Clinics, Jacqueline Zdrojowy, Pregnancy Solutions, and Jennifer Carey and Linda Wenck, Sarasota Medical Pregnancy Center.
Support after abortion was a primary topic addressed; it is presumed that support after abortion will be in great demand once abortion becomes a major topic in the news, after the final Supreme Court decision on Roe v. Wade is announced. Lisa Rowe, a licensed clinical social worker at the organization Support After Abortion, pointed out that seeing abortion all over the news will likely trigger those who have suffered from the trauma of abortion, even if from decades ago.
"Abortion is a symptom, but we treat it differently than anything else in our mental health community," said Rowe. "Support after Abortion's goal is to develop a compassionate understanding around abortion. We must treat abortion like any other trauma that is experienced . . . Not just for women, but men also."
Rowe explained that one in four women have personally experienced abortion, and that 50 percent of the estimated one million abortions performed each year are repeat abortions. Abortion healing must fit into the available offerings at pregnancy help centers if we are to prevent not only abortion but also repeat abortions, Rowe said, pointing out that "healing trickles down."
"Abortion is a social service issue, no different than divorce, domestic violence, etc., and should be treated as the trauma that it is," Rowe said. "There is a world out there that has not been given permission to heal, and we want to be that space."
Pam Stenzel from Community Pregnancy Clinics talked about the prevalence of chemical abortion – the use of medical drugs to abort — saying that the push to chemical abortion escalated during COVID. Fifty-seven percent of all abortions performed are done in the first trimester and are candidates for chemical abortion, she said.
Stenzel pointed out that pregnancy help centers need to anticipate a lot of increased phone calls in a post-Roe world, adding that the centers' phone numbers are "a hotline," and that everyone who answers the phone should be trained to help. The first question to ask? "Do you know that you are pregnant?" It is important, Stenzel said, to inform potential clients that a positive pregnancy test, ultrasound, and testing for sexually transmitted disease are critical medical care for women who think they may be pregnant, and that to have an abortion (chemical or otherwise) without this can be dangerous or even life-threatening.
Jennifer Carey from Sarasota Medical Pregnancy Center added that many women who take the chemical abortion pills are being told to tell medical professionals that they have "had a miscarriage," which is extremely dangerous. Carey said it is important to ask the right questions and determine the truth to be able to provide the best care, adding: "The role of medical pregnancy centers will expand in a post-Roe world. Be prepared."
To learn more about the pregnancy care centers and other support for pregnant woman, please visit www.dioceseofvenice.org/respectlife, or contact Jeanne Berdeaux at 941-484-9543.