By Sylvia Jimenez, Special to the Florida Catholic
By the age of 45, about 1 out of 4 women in the USA has had one or more abortions. When we include the numbers of men, as well as the parents of the women, the siblings of the aborted babies, etc., we begin to see the implications of how abortion has deeply affected and hurt our entire society, and in staggering numbers.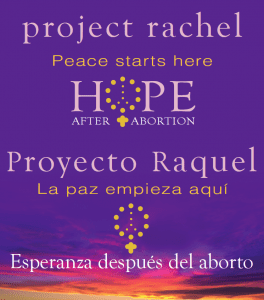 There is hope, and healing, for those impacted by abortion. Project Rachel is a Diocesan outreach to women and men who suffer from the mental and spiritual trauma of abortion. This important outreach in the Diocese of Venice includes counseling, healing retreats and other direct and indirect support. All contact is strictly confidential.
WHAT CAN LEAD TO THAT "CHOICE"
Many choose abortion as a matter of "convenience" (not the right time, not ready, fear of others finding out they are sexually active, etc.), or to avoid disappointing their parents.
Others, such as victims of abuse, feel as if they are at fault for what has happened to them, evoking feelings of helplessness and hopelessness, making them more vulnerable to either choosing abortion or letting others make that decision for them.
Project Rachel in our Diocese has helped several women who had been pregnant because of rape or incest. In these cases, they invariably said that their abortions were more traumatizing and debilitating for them than the sexual abuse – because in this act they became complicit in an even more violent crime than their abusers. Furthermore, their abusers could continue abusing them once they had covered up their crime by "aborting" the DNA evidence.
POSSIBLE CONSEQUENCES OF ABORTION
Many who have walked a lonely path of grief and hopelessness after abortion eventually begin to understand that they have a deep spiritual wound. But sadly, they also are likely to believe that they have committed "the unforgivable sin" and fear God's anger or punishment.
The deep feelings of regret, grief and shame which can emerge sooner or later are profound and often crippling.  Some try to numb the emotional pain by self-medicating through abuse of drugs, alcohol, promiscuity, or a host of other self-destructive behaviors.
After abortion, men as well as women can suffer some or many of the following complications:
Grief (mild to profound)
Depression (sometimes to the point of suicidal thoughts and attempts)
A sense of alienation from family, friends, church/faith
Isolating self from others to avoid discussing the topic of abortion, which can trigger many negative emotions (intense shame, anger/rage, guilt, sadness, etc.)
A feeling of being 'numb,' not able to feel joy from activities that used to be pleasurable
Difficulty concentrating (e.g., on work or studies)
Anger toward self, the child's father and/or others involved in the abortion decision
Eating disorders
Promiscuous and reckless behavior
Sleep disorders, like insomnia or abortion-related nightmares or flashbacks
Adverse reactions to sounds, smells, and sights which remind them (at least subconsciously) of the abortion experience
Adverse reactions to (or impulse to avoid) seeing babies, pregnant women, little children, etc.
Problems bonding with her other children (being over-protective but emotionally distant)
Child abuse or neglect
Sexual dysfunction
Fear that God will or is punishing them
Addictive behaviors (e.g., alcohol or drug abuse to "numb the pain" or "self-medicate")
An inability to forgive themselves and an inability to accept God's forgiveness
To be continued in the next issue of The Florida Catholic.
Project Rachel invites you to view a few short and beautiful video testimonies of several women who have received healing from their abortions at www.dioceseofvenice.org/respect-life/post-abortion-help.
For more information about Project Rachel, as well as to read stories of hope and healing, visit www.hopeafterabortion.com (English) and https://esperanzaposaborto.org (Español)
For testimonies of men having found healing after abortion, visit www.menhealingfromtrauma.com.
If you know someone who has had an abortion and you would like to reach out to them so they can receive healing, contact Project Rachel. We can offer good recommendations for each situation. All contact is strictly confidential. (Se habla español. Todo contacto es confidencial) Call Sylvia Jimenez at 941-412-5860, or email Project.Rachel@DioceseofVenice.org.