Scouting religious awards presented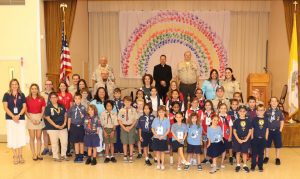 The Diocesan Scouting Religious Award Ceremony was held May 22, 2022, at Epiphany Cathedral in Venice. Catholic National and Diocesan Awards were presented to Boy Scouts, Cub Scouts and American Heritage Girls as well as to adult leaders. Diocesan Scout Chaplain Father Lawton Lang, as well Scout Leaders Jim Fetterman and Bob Paquette, presented the awards. The ceremony followed a Mass in the Cathedral where they were also recognized.
Students artwork recognized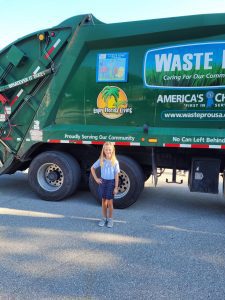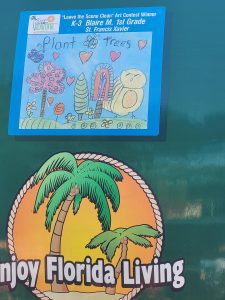 Congratulations to Blaire M., a first grader at St. Francis Xavier Catholic School in Fort Myers, whose artwork now adorns the side of a Waste Pro recycling truck. Blaire won 1st Place in the Keep Lee County Beautiful and Waste Pro "Leave the Scene Clean" environmental art contest. The artwork included a caterpillar, flowers, trees, hearts and a butterfly with the words "Plant Trees." The truck with Blaire's artwork visited the school on May 19, 2022, for everyone to see.
Catholic Summer Camp Program
Totus Tuus (a Latin phrase meaning "totally yours") is a summer Catholic youth camp program dedicated to sharing the Gospel and promoting the Catholic faith through evangelization, catechesis, Christian witness and Eucharistic worship. The weeklong program assists parents and parishes to evangelize and catechize youth by complementing the work they are already doing at the Parish and at home. This summer the program will be offered at eight parishes in the Diocese of Venice. The camp program is for grades 1-5 Monday to Friday, from 9 a.m. to 3 p.m. and for grades 6-12 Monday to Thursday, from 7:30 p.m.to 9:45 p.m. Parishes hosting the program are as follows:
Katharine Drexel Parish, 1920 SW 20th Ave., Cape Coral, June 6-10.
Agnes Parish, 7775 Vanderbilt Beach Road, Naples, June 13-17.
Our Lady Queen of Heaven Parish, 355 S. Bridge St., La Belle, June 20-24.
Catherine Parish, 820 Hickory St., Sebring, June 27-July 1.
John XXIII Parish, 13060 Palomino Lane, Fort Myers, July 11-15.
Joseph Parish, 3100 26th St. W., Bradenton, July 18-22.
Elizabeth Seton Parish, 5225 Golden Gate Parkway, Naples, July 25-29.
Patrick Parish, 7900 Bee Ridge Road, Sarasota, August 1-5.
Several parishes still have openings. Please contact the Director of Religious Education at the Parish hosting the program or Carrie Harkey at 941-484-9543.
Our Lady of Fatima Rosary Rally
Please join our national America Needs Fatima Rosary Rally for the Traditional Family and Public Prayers in honor of the Sacred Heart of Jesus and to end abortion which will be held Saturday, June 4, from noon to 1 p.m., at the corner of Daniels Parkway and Daniels Commerce Blvd near Tile Outlet of America and TIAA Bank in Fort Myers. Parking is in an empty lot at Daniels Commerce Blvd. and Commerce Park Blvd. or John Yarbrough Linear Park off Daniels at Metro Parkway. Please arrive 10 minutes early and bring your Pro-Life signs, chairs, water, and umbrellas. For more information, please contact Toni at toni@defendingtheunborn.com.
Pentecost Celebration
The Diocese of Venice English Charismatic Renewal invites all to join them for a celebration on Pentecost Sunday at 3 p.m., June 5 at Sacred Heart Catholic Church, 211 West Charlotte Avenue, Punta Gorda. The afternoon will include praise and worship followed by the Holy Sacrifice of the Mass at 4:00 p.m. Please bring your Prayer Group Banner and Stand as there will be a Banner Procession. For further information, please contact Alice Keough at keough@epiphanycathedral.org or 941-484-3505 ext. 1104.
22nd Annual Knights Liberty Ball
The Knights of Columbus Assembly 2542 is hosting the 22nd Annual Liberty Ball, June 18, 2022, at the Our Lady of Light Parish Center, 19680 Cypress View Drive, Fort Myers. Presented by the Fourth Degree Knights of Columbus, the evening will honor Knights who are veterans. Doors open at 5:30 p.m., with Presentation of Colors at 6 p.m. with dinner to follow. Tickets are $35 and include dinner, two drink tickets and dancing. Dress code for Fourth Degree Knights is tuxedo with Social Baldric, all others, smart casual. This Gala is open to everyone. For ticket or event information, please contact any of the following: Jim Mendolera at 239-390-0346, Frank Haneline, 239-466-6883, or Ron Bekech at 239-437-4999.
Religious Freedom Week 2022
The U.S. Conference of Catholic Bishops is once again promoting the celebration of Religious Freedom Week beginning Wednesday, June 22 to Thursday, June 29. Each year the week encompasses the period between the Memorial of Saints Thomas More & John Fisher, through the Solemnity of Saints Peter & Paul. The theme for this year is Life and Dignity for All. As we approach the Supreme Court decision in Dobbs v. Jackson Women's Health Organization, we are especially mindful of the debates around our country about abortion. The Church plays a crucial role in both bearing witness to the gospel of life and serving all who will be affected by these discussions and their outcomes. Learn how you can pray, reflect, and act to promote religious freedom at www.usccb.org/ReligiousFreedomWeek.
Youth Conference
The 14th annual Ave Maria University Youth Conference – "Fearless" – is being held July 8-10. Featured talks are by Father Rick Martignetti, Father Joseph Lugalambi, Father Rich Pagano and Chris Padget. The event includes the talks, Mass, Adoration, praise and worship, fellowship, opportunities for confession and much more. The cost is $175 and includes lodging, all meals, a t-shirt and more. To register, call 239-348-4725, aveconferences@gmail.com or www.aveconferences.com.